Exclusive
Shocker! Tom Cruise's Racially Charged Libel Lawsuit Compares Jewish & Gay Journalists To Cotton-Picking Slaves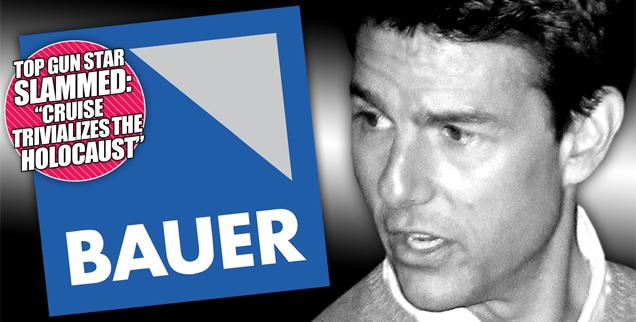 Tom Cruise has been blasted for having an "inability to perceive any boundaries to logic or taste" after his legal team compared Jewish and gay journalists to cotton-picking slaves working on a plantation.
In documents obtained exclusively by RadarOnline.com, it's revealed that lawyers for Cruise, 51, made the jaw-dropping statement following a deposition by the Editor-in-Chief of In Touch and Life & Style, Dan Wakeford, who said that claims by the Hollywood star that Bauer has an anti-Semitic and Nazist corporate culture were "ludicrous," because several staff members are Jewish and/or gay.
Article continues below advertisement
Cruise's attorneys responded to to the magazine boss' position by likening it to "a plantation owner claiming, 'I'm no racist'" even though everyone "picking my cotton is black."
Lawyers for the German-based publisher cited the quote in a November 12 filing as an alleged example of Top Gun star Cruse's "inability to perceive any boundaries to logic or taste."
They also claimed Cruise has "trivialized" the Holocaust, the mass murder or genocide of approximately six million Jews during World War II, with his argument that Bauer is pro-Nazi and anti-Scientology.
"By doing so, Cruise trivializes the Holocaust as he attempts to draw entirely unfounded analogies between the most serious of historical events and current entertainment news coverage about his divorce that only briefly touches on his Scientology religion," Bauer wrote as part of its bid to have a District Court judge issue a protective order against Cruise, who they argue is on a campaign to "harass, oppress and annoy."
Article continues below advertisement
"Bauer may disguise its present attacks on Cruise as mere tabloid-style gossip," the Oscar-nominee's long-time lawyer Bert Fields wrote in a 2012 letter to Bauer.
"But it's really a continuation of the same pattern of bigotry the company espoused under Hitler. Only now, it's focused on Scientologists rather than Jews and it's been reformatted to make money from young Americans, while indoctrinating them with Bauer's current messages of hate."
Article continues below advertisement
Cruise and his legal team have attempted to prove their position about Bauer during 13 months of litigation.
But according to the publishing house, they've blatantly ignored what little evidence has been unearthed from thousands of documents and nine depositions of Bauer witnesses.
"Cruise ignores Wakeford's repeated testimony explaining that the Bauer family is 'not involved on a day-to-day basis of the magazines, per se,'" lawyers told the Los Angeles court.
"Nor does Cruise explain – because he cannot – why he studiously avoided asking questions of the nine Bauer witnesses that would have revealed whether the imagined pro-Nazi culture actually existed.
"Tellingly, in his zeal to ascribe the reporting at issue to an anti-Scientology bias emanating from Germany, Cruise dismisses the indisputable fact that a broad swath of the media coverage of his divorce during the same time period was nearly identical to that of the Bauer Defendants as indicating only that 'Scientology is a target for widespread discrimination.'"
Article continues below advertisement
In its filing, Bauer reiterated that at the core of the libel action was Cruise's "repeated and extended absences" from his daughter Suri, seven, following his split from Holmes — and not his "offensive conspiratorial endeavor" of racism and bigotry.
"Recognizing that he has admitted as true the critical facts that informed the conclusions actually at issue in this action, Cruise attempts to divert attention to an irrelevant sideshow about a supposed 'corporate-wide Bauer culture of bigotry' driven by pro-Nazi/anti-semitic/anti-Scientology biases," the lawyers argued.
Cruise's lawsuit is asking for $50 million in damages from the publisher.