Move Over Jaden & Willow! Maddox Jolie-Pitt Could Be Next A-List Child Star With Lead Role In 'Battling Boy'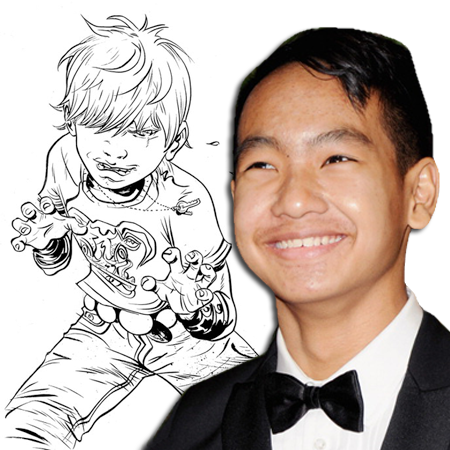 It could be time for Maddox Jolie-Pitt to come in for his close-up.
Sources tell RadarOnline.com the 13-year-old son of Brad Pitt and Angelina Jolie has slowly morphed into a strong candidate to play Battling Boy, a Paul Pope-created character whose exploits could be headed to the silver screen.
"Maddox would be amazing in the part, but Brad is wary of going 'all Will Smith with his kids,'" an insider told Radar.
Article continues below advertisement
"This could be a special case though, because Brad got involved in the project so early that his influence -- and Maddox's -- are really felt across the board on this thing. There are panels that even use some signature Maddox facial expressions!"
49-year-old Pitt's company Plan B bought the rights to the character.
While insiders close to the Hollywood royalty denied Maddox's involvement in the project back in 2011, they said that because of Maddox's physical transformation -- and the showbiz success of Will Smith's kids -- the idea is sitting better with Brangelina these days.
"This is the next movie Brad wants to produce and he even has financing lined up from his deal with India's Reliance to make this thing," the insider said, noting that "Maddox could be playing the part within 10 months or less."
Jolie adopted Maddox (his birth name was Rath Vibol) from Cambodia in 2002.
Battling Boy was originally a graphic novel that was optioned by Paramount Pictures.