Exclusive
Trial Separation For Will & Jada Pinkett Smith? Couple Living Separate Lives Amid Rumors Of A Split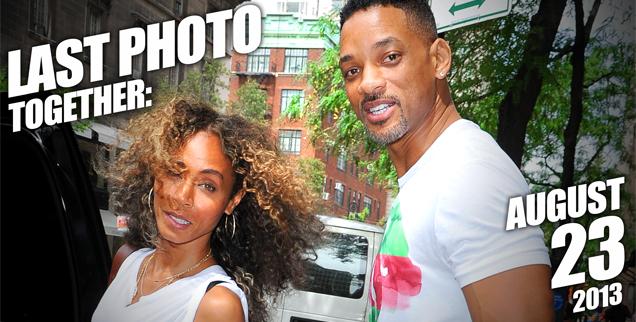 "Will and I can both do whatever we want because we trust each other to do so," Jada Pinkett Smith recently said of her unconventional relationship with her husband. "This does not mean we have an open relationship. It means we have a grown one." Or is it a broken one? RadarOnline.com has learned that the couple have not been publicly seen together for more than two months as rumors of marriage trouble reach fever pitch once more.
Article continues below advertisement
Jada offered some insight into her current mental state at the Associated Black Charities of Baltimore Girls' Night Out Event on October 23, telling the crowd that "when you are going through a storm with your spouse … stop thinking about what you 'believe' a husband or wife should be," according to audience member Vera Holman, who live-tweeted the event. Jada also reportedly told the crowd, "I thought success would make me happy … It does NOT."
Indeed, more than fifteen years after their lavish Hollywood wedding, Will and Jada are living separate lives. Will has been in New Orleans since mid-September filming Focus, and is scheduled to stay there through next month as well. His ex, Sheree Fletcher, is also in town, according to her Instagram.
Jada, meanwhile, traveled to Paris earlier this month with her daughter, Willow and mother, Adrienne Banfield-Brown, who was also by her side at the Baltimore event.
Article continues below advertisement
Once back in L.A., Jada has reportedly moved into her brother Caleeb Pinkett's Calabasas home.
When reached for comment on the couple's marital struggles, Will's mother, Carolyn Smith, told RadarOnline.com, "Isn't that personal? … Thank you for your concern."
Sadly, this isn't the first time that the couple have weathered rumors of a split.
Back in the summer of 2011, In Touch reported that they were on the way to divorce thanks to Jada's closeness with Hawthorne co-star Marc Anthony, who called the rumor "laughable."Then in December, 2011, Star magazine reported that a split was imminent, but it never came to pass.
Early the next year, Jada reportedly moved out of the home she shared with Will.
In April, Jada told Gala magazine, "These rumors are completely untrue. I travel a lot because of my work, just like Will does. But our lifestyle hasn't changed. Before we had the kids, we were already far away from each other quite often because of separate projects."
Rumors ramped up last month when new reports claimed that the Smiths had put their $42 million dream home on the market after selling off their Hawaii estate. Their rep later called the claim "completely false."