Jada Pinkett Smith: Will And I Are Not Getting A Divorce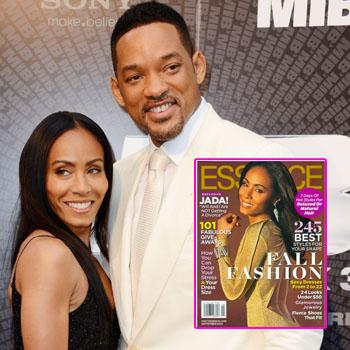 Will Smith's marriage to Jada Pinkett Smith has been plagued by divorce rumors in recent years.
But the 40-year-old mother-of-two is insisting that all is well in their union and she looks forward to celebrating their 15-year anniversary in December.
"It seems like that happens at least once a year, or at least once every two years - it's rumored that we're getting a divorce. But no, we're not getting a divorce. Where am I going to go? That's my boo. It's like he's another part of me," she gushed to Essence.
Article continues below advertisement
"I was just doing the TODAY show, and there was a couple there who was celebrating 59 years of marriage," she told People earlier this year. "I thought to myself, '15 years ain't nothing, you know?' It's just the beginning. That's the way I look at it."
The actress also opened up about fighting child trafficking, which was prompted after seeing the viral Kony 2012 video showcasing war criminal Joseph Kony and his exploitation of children in Uganda. After some research she rang up Hollywood's No. 1 activist, Angelina Jolie, for inspiration... and a little education.
"I called Angelina Jolie and said, 'Ange, I need you, girl. Did you know we have slaves in this country?'" she told the magazine. "She said, 'Jada, I've been working on this for years - are you kidding me?' So I sat on the phone with Angelina and of course it was like going to college. She schooled me."
Jada describes her passion for the cause, which culminated in a visit to Congress this summer to testify at the Senate Foreign Relations Committee, and how she's got to "move like a rocket" to get anything done.