Jada Pinkett Smith Flaunts Her 'Better With Age' Bikini Body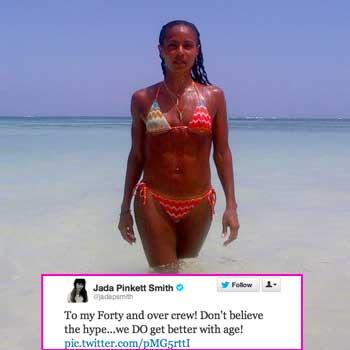 Jada Pinkett Smith turns 41 in September, is in the best shape of her life and isn't afraid to show off her sexy beach-ready body.
The mother-of-two is so proud of her toned physique that she posted a bikini picture of herself on Twitter this weekend to show off the results of her hard work and to give a message to her older fans.
"To my Forty and over crew! Don't believe the hype," she wrote. We DO get better with age!"
Article continues below advertisement
Wearing a Missoni two-piece, Will Smith's wife looked like a woman a fraction of her age as she strutted out of the ocean displaying her rock hard abs.
But her physique came through lots of hard work and by the sounds of it not that much pleasure.
Jada works out five days a week doing boxing, yoga and martial arts and has admitted that she isn't a big fan of food!
"I don't eat for pleasure," she told Essence magazine recently. "I had the only West Indian grandmother that could not cook. She taught me that you don't eat for taste, you eat for nourishment." Sounds fun.