Exclusive
Romeo And Juliet Of Prison: Whitey Bulger Pines For Mob Moll Girlfriend, Writes He Can't Wait To See Her Again 'In Death'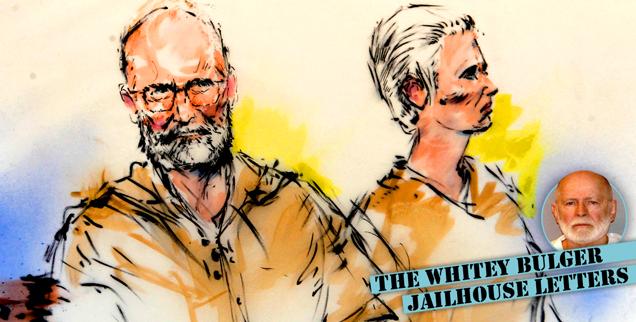 To the city of Boston and the rest of the world, legendary crime boss James "Whitey" Bulger was a sadistic killer, a coldly calculating mobster and a man to be avoided at all costs.
To Catherine Greig, he was her boyfriend.
After fleeing justice with Bulger in 1995, Greig stood by his side until the feds came calling in 2011. Bulger previously called his time Greig "the happiest years" of his life and now, in another intimate prison letter obtained exclusively by RadarOnline.com, the mob boss expounds on his love for the woman who aided and abetted his flight from justice for so many years, showing that even terrifying crime bosses can have a softer side.
Article continues below advertisement
The two never married, he writes, "to my eternal regret."
Instead, Bulger dragged his paramour down into a dark life of subterfuge and deception that eventually sent her to jail.
Even worse, Greig was forced to come face-to-face with Bulger's victims in an emotional sentencing day in May.
"ILLEGAL!" Bulger rants. "She had no victims. Her charge was aiding and abetting or harboring a fugitive, not murder!!! The judge let the families of the victims take over the court room."
Article continues below advertisement
In one painful moment, Steve Davis, the brother of murdered Bulger associate Debbie Davis, told Greig, "If I had a sister like you, I would have killed myself just like your brother did!" Greig, whose brother did indeed commit suicide when she was younger, "broke down and cried," Bulger writes.
Helpless within the prison walls, he can't help but fantasize about how he would have taken his revenge in earlier days.
"If we were on the street," Bulger writes, "he would have never raised his voice to her or in any way disrespected her or I would have dealt with him!"
But there will be no revenge -- and no happy ending -- for the 84-year-old and his 62-year-old girlfriend.
Housed in separate prisons, they aren't even allowed to correspond through the mail, he reveals.
The only consolation for the lonely, defeated old man -- a lifelong Catholic -- is the hope of reconciliation in the afterlife.
He writes, "I hope for us to be together in death."