Exclusive
Mobster James 'Whitey' Bulger's Life In Solitary - Inmate Gives Insight Into Hellish Conditions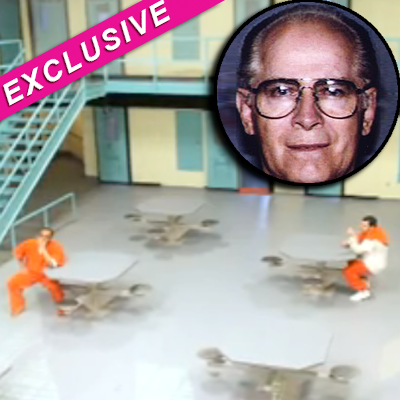 A fellow inmate of James "Whitey" Bulger gives RadarOnline.com a glimpse into the hellish conditions the crime boss, who has been charged with 19 counts of murder, is held under.
"He's being kept in the hole," Adrian Alves, who is currently incarcerated in a separate unit at Plymouth County House of Corrections, tells RadarOnline.com in an exclusive interview.
"The cell is like 8 x 12, it's very limited, there's no fresh air - it's like a dog cage. He has a guard outside his cell 24 hours a day and when he is moved he wears a three point restraint, which is a waist chain with shackles down to the ankles and up to the wrists and he is flanked by, like, 20 guards. His cell is shaken down twice a day to check there's nothing in there.
Article continues below advertisement
"He's locked up 24 -7 and is allowed out for just one hour a day to exercise and shower and then three times a week for twenty minutes to shave. He's not allowed to interact with any other inmates, he's kept completely secluded, I think they're scared an inmate might slip him a razor and he'll hurt himself.
"Being kept like that is not conducive to anyone's mental state. Imagine locking yourself in a tiny bathroom 24 hours a day and having no interaction with the outside world. After a period of time your faculties start to play on you.
"It drives you crazy, your body and your mind's not designed for it, the psychological aspects, the physical aspects."
Alves is nearing the end of a two year sentence for driving without a license and leading the cops on a high speed chase. He has seen Bulger several times since the legendary mobster was sent to Plymouth pending his trial and according to Alves the elderly man is not faring well.
"When he walks by the guy is hunched over, he has all this white hair and he looks real frail. He looks like the 80-year-old man that he is. He's old, he looks old.
Article continues below advertisement
"The facilities at the prison are terrible. It has the worst medical care in the state. I caught staph infection while I was cleaning my cell.
"And the food is terrible. You get a plate of cold rice for breakfast. Companies bid for the food contract and the cheapest wins - so there's no quality. I wouldn't feed my dog that food."
Bulger, 81, was the leader of Boston's notorious Winter Hill Gang when he fled in January of 1995 after being tipped off by a former Boston FBI agent that he was about to be indicted. Bulger was a top-echelon FBI informant.
He was arrested along with his longtime girlfriend, 60-year-old Catherine Greig, on June 22 at their apartment in Santa Monica, California.
Take A Look At Bulger And Greig's House
Authorities found a stash of weapons in their residence, along with $800,000 in cash - much of it hidden in the apartment's walls. The arrest was based on a tip after federal authorities reactivated a nationwide publicity campaign to find him.
Article continues below advertisement
At the time of his arrest, he was number one on the FBI's Most Wanted List.
You can take a tour of the Plymouth 'G Unit' courtesy of the facility sheriff - we have the video clip below.