Exclusive
'My 16 Years On The Run Were The Happiest Years Of My Life': Now Jailed Whitey Bulger Admits 'The Worst Is Yet To Come'… As He Confirms He'll Appeal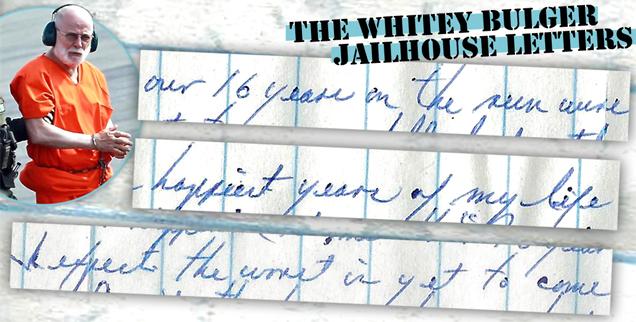 Locked away for up to 24 hours a day in solitary confinement, Whitey Bulger has "lots of time to read and think," he writes in a jailhouse letter obtained exclusively by RadarOnline.com. But he's not spending his time reliving the high-octane heists, murders and scams he pulled as leader of the notorious Winter Hill Gang.
Instead, the 83-year-old is longing for the quiet years he spent under the RadarOnline.com after running from the law in Boston, the years he spent living as a retiree on the beach in Santa Monica, with his girlfriend Catherine Greig -- and he even admits he was never a gangster to begin with!
Article continues below advertisement
"Jail and prisons are a dead end," he writes in the surprisingly pensive note. "If I met Catherine at a younger age I would have had a better life. She was the best thing that ever happened to me."
LETTERS: Mob Kingpin Whitey Bulger Writes Letters From Prison
"My 16 years on the run were the happiest years of my life and hers," he continues. "Memories sustain me —"
Awaiting his November sentencing on convictions for murder, extortion, money laundering, drug dealing and weapons possession, he admits, "I expect the worst is yet to come -- I'll deal with it and welcome the 'peace.'"
But that doesn't mean he's accepted his fate. Whitey reveals to his pen pal that he's presently preparing for an appeal. "Getting things together for appeal," he writes in the letter, postmarked from Inmate No. 1428AZ – his jail identification number when he was once an inmate at Alcatraz.
"Will be busy but will write you again later on -- You could do me a favor. Stay out of trouble and avoid entanglement in this. Meet a nice girl and enjoy life + appreciate freedom."
Freedom doesn't appear to be in the cards for Bulger. He could be sentenced to life in prison plus up to 30 years in November. His lawyer, J.W. Carney has said he intends to appeal because the judge didn't consider Whitey's claim that he had been granted immunity for his crimes long ago by a prosecutor who has since died.