Exclusive
Boutique Slammed With Complaints Over Miley Cyrus' Raunchy VMA-Themed Store Displays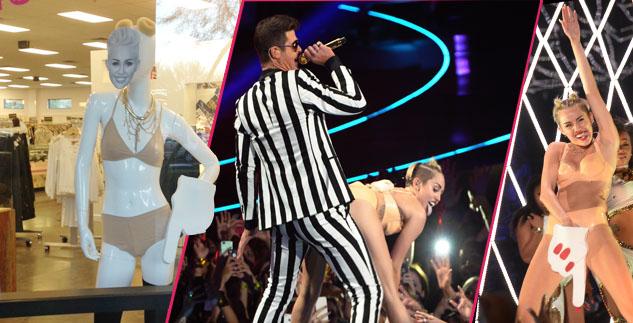 A high-end consignment boutique decided to ride the coattails of Miley Cyrus' wild VMA performance by dressing up (and down!) their mannequins to mimic the performance, but RadarOnline.com has exclusively learned they've been slammed by customers who are outraged and disgusted by the display.
My Sister's Closet has 15 stores on the West Coast but it was their Scottsdale, Ariz. location that was tagged with the phrase,"Twerk you skank" across their store window front in fuchsia lipstick just days after their Miley-themed display went up.
Article continues below advertisement
RadarOnline.com has obtained exclusive photos of the displays in question — which had one elderly customer approach management to scold, "If I wanted to look like that little girl, I would shop at The Wh*re Store."
"Another shopper walked up to the counter with her name and phone number and instructed the employee to call her when the display was removed, and insisted that she would not be returning until the display came down," an insider tells RadarOnline.com.
"Employees have even caught customers trying to cover up the nude Miley mannequins with coats off of a nearby rack!"
In order to get to all the high-end brands like Louis Vuitton, Diane Von Furstenberg and Gucci, customers have to walk through mannequins dressed in nude underwear posing with a foam finger, wearing teddy bear backpacks and a Miley face mask.
Innocently enough, the store's original intention with the Miley-themed displays was to inspire DIY Halloween costumes, the source tells RadarOnline.com.
"But the outcry of disgust they have received has them thinking maybe they should stick to the chic Chanel displays in the future!" the insider concluded.