Miley Cyrus Flips The Bird At Critics Of Raunchy MTV VMA Grinding Performance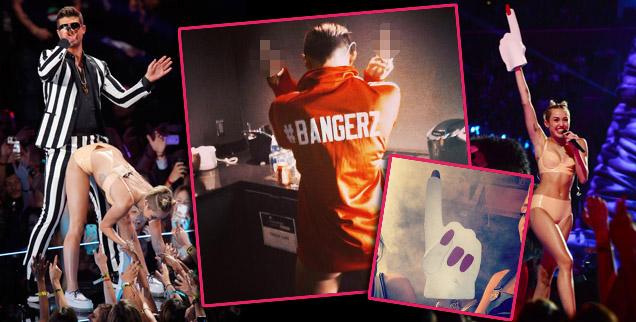 Miley Cyrus has one thing to say to the critics of her raunchy 2013 MTV VMA performance – F you!
The fallen Disney star's outrageous twerking performance on Sunday night where she was stroking Robin Thicke's crotch, and her own, with a giant foam finger and gyrating and grinding her bottom against him sent shockwaves around the world, with critics slamming her racy performance, but Miley is taking it all in stride and hitting back at her haters.
Article continues below advertisement
Miley, 20, posted a picture on her Twitter page with a jacket that has the title of her album Bangerz on the back and she is giving the double middle fingers to the camera.
"#BANGERZ#longassfingerz" she wrote about flipping the bird in the shot.
Miley has been criticized for her masturbatory masterpiece during Robin's song Blurred Lines, but she is completely embraced the attention, posing with Wiz Khalifa who share the photo of her with the foam finger she was wearing during the sexually provocative performance, writing: "The infamous hand."
Along with Wiz, Miley's friends have quickly come to her defense, with her bestie Cheyne Thomas sticking up for her in a big way, blasting Kelly Clarkson as 'fat' and 'bitter' after the American Idol alum pegged Miley as a "pitchy stripper."
If you missed Miley's outrageous performance check it out below.
2013 VMA - Artists.MTV - Music - Miley Cyrus