If She Can, Make It There … Miley Cyrus Takes Center Stage In New York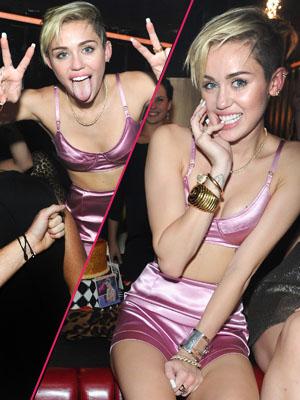 Tongue out, check. Barely-there outfit, check. Flippant quote, check.
Miley Cyrus was right in her element at an event promoting her new album Bangerz at New York City's Planet Hollywood Tuesday, and we've got the shots for you right here on RadarOnline.com.
"It's so rad to see all my fans out here," said the 20-year-old singer, who at one point was stripped down to skimpy pink lingerie. "I've been trying to keep this music a secret for a year, so now that it's bumping on the speakers, it feels so good."
Article continues below advertisement
At the event, Miley commented on her ongoing issues with Sinead O'Connor; when asked if she would try and mend fences with the early 90s sensation, the white-hot singer shot back, "I don't know. Are we supposed to kiss?"
The "Nothing Compares 2 U" singer issued her fourth open letter aimed at the former Hannah Montana star on Tuesday, ripping her for the backlash of their recent war of words (specifically, Miley questioning her sanity by comparing her to embattled actress Amanda Bynes).
"As a result of what you did, I have had numerous communications from people urging me to commit suicide," Sinead wrote to Miley. "Not to mention, I have been the subject of literally thousands of abusive articles and or comments left after articles, which state that I and therefore all perceived mentally ill people, should be bullied and be invalidated."
Miley's Bangerz, featuring collaborations with Britney Spears, Pharrell and will.i.am, is available in stores now.