Sinead O'Connor Rebuffs Miley Cyrus Invitation To Meet, Chastises Her For 'Abuse' Of Mentally Ill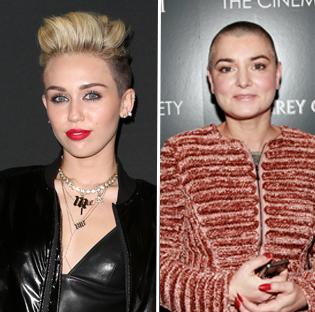 UPDATE: Sinead O'Connor will not be having that pow-wow with Miley Cyrus after all: After Miley's challenge, Sinead posted to Facebook, "I have no interest whatsoever in meeting you. You had plenty of time yesterday to abuse Amanda Bynes .. an entirely innocent party.. and myself.. who also did nothing to deserve your abuse.. along with every other sufferer of mental health problems and every person who suffered abuse at the hands of priests."
Article continues below advertisement
* * *
It's been a lot less than seven hours and fifteen days since the last shot fired between Sinead O'Connor and Miley Cyrus.
The war between the two continued at a frenetic pace late Thursday, with Cyrus, 20, firing off the latest salvo, challenging O'Connor, 46, to a face-to-face meeting (and simultaneously promoting her heavily-anticipated Saturday Night Live hosting gig this weekend).
"Sinead. I don't have time to write you an open letter cause Im hosting & performing on SNL this week," the twerker tweeted Thursday. "So if you'd like to meet up and talk lemme know in your next letter. :)"
Miley's challenge came in response to O'Connor's latest communication, in which she told Miley, "Taking me on is even more f-ckin' stupid than behaving like a prostitute and calling it feminism," after Miley's snarky Amanda Bynes dig earlier in the day hit home with Sinead.
"You have posted today tweets of mine which are two years old, which were posted by me when I was unwell and seeking help so as to make them look like they are recent. In doing so you mock myself and Amanda Bynes for having suffered with mental health issues and for having sought help," she wrote. "Remove your tweets immediately or you will hear from my lawyers. I am certain you will be hearing from all manner of mental health advocacy groups also. It is not acceptable to mock any person for having suffered."
Article continues below advertisement
The feud has certainly generated a renewed public interest in O'Connor, as her website had crashed early Friday, presumably due to the overload of traffic stemming from her feud with the buzziest beauty on the planet, and anticipation of her response to Miley's latest statement.
As we previously reported, Miley inadvertently got the bitter ball rolling in paying homage to "The Emperor's New Clothes" singer, saying she hopes her Wrecking Ball video will serve as an updated version of O'Connor's iconic video for her 1990 mega-hit, "Nothing Compares 2 U".
The Grammy winner responded to the attention from Miley, informing her in an open letter, "I am extremely concerned for you that those around you have led you to believe, or encouraged you in your own belief, that it is in any way 'cool' to be naked and licking sledgehammers in your videos. The music business … will prostitute you for all you are worth, and cleverly make you think its what YOU wanted."