Exclusive
George Zimmerman's Estranged Wife Told Cops He Left Bullet-Riddled Marksman Target -- Nailed To The Wall -- In Their Home After Divorce Dispute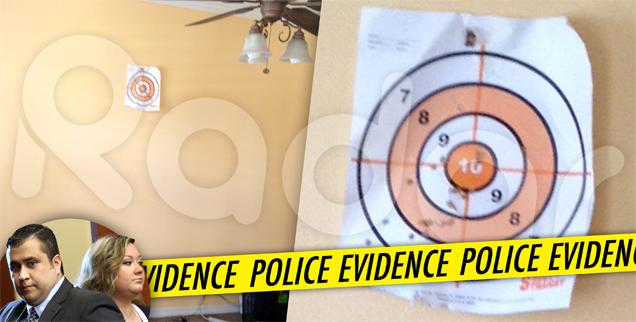 The soon-to-be ex-wife of George Zimmerman, the neighborhood watchman acquitted in the shooting death of unarmed black teenager Trayvon Martin, discovered a used marksman target riddled with 17 bullet holes nailed to the wall of the home the estranged couple once shared, after he was forced to move out.
RadarOnline.com has exclusively obtained the menacing photo provided to police which shows what Shellie Zimmerman and her parents uncovered inside the study at their Lake Mary, Fla., home.
Article continues below advertisement
The last person inside the building was said to be 30-year-old sharpshooter George, who had been dramatically asked to collect his belongings and leave, RadarOnline.com has been told.
"This is the photo that Shellie sent to her lawyer and said, 'Look at the subliminal message George left me,' following their showdown in September," a source with intimate knowledge of the situation revealed.
"What else could a bullet-riddled marksman's target mean?"
Charged another source: "It's really not that subliminal. A not-so subtle message, I think. It was clearly a threat."
"Did George feel so threatened by Shellie talking to the media about her marriage to George?" the source questioned.
"Did he feel threatened that she didn't stick to the playbook of refusing to talk after Trayvon? Or was this George's way of telling Shellie to stick to the omertà? Or was it something more serious?
Article continues below advertisement
The not guilty verdicts in the second-degree murder and manslaughter trial stunned the nation.
"Shellie's mother went over to the home -- she owns it with her husband -- immediately after George moved out," a source said.
"As she has reported to police, some of the items in the home were taken, including furniture, and it was trashed. She did not know by whom, but of course the family suspects George.
Article continues below advertisement
"At the time, Shellie was in New York, appearing on the TODAY show.
"What Shellie's mom didn't notice was the target. Then, when Shellie got home, she went over to the house and discovered the target with bullet holes in various quadrants.
"There it was… tacked up on the wall of their home office, right between the garage and the kitchen where the domestic incident took place."
As for whether the dirty tricks target could have been left by someone else, the source told Radar: "It was not there when Shellie left, only when George moved out. He's the only person who could have left it. Only he, Shellie and Shellie's parents had keys."
Shellie's lawyer Kelly Sims said he would not comment on the target when reached by RadarOnline.com.