George Zimmerman's Wife Holds Press Conference, Wants Divorce To 'End With A Whimper, Not A Bang'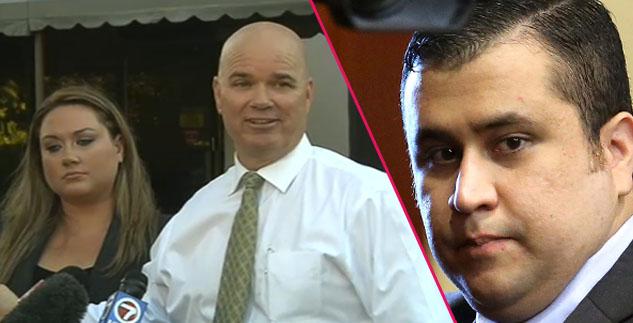 Article continues below advertisement
According to Sims, a miscommunication — which can be seen in text messages between Shellie and George here — led to Monday's incident in which he claims George was at the home when Shellie was trying to move stuff out, just watching silently and taking photos.
GALLERY: SEE THE TEXT MESSAGES
Sims said George "knew he wasn't supposed to be there."
"Shellie had a valid reason why she believed George was armed," Sims said, citing a newly purchased shoulder gun holster they knew George had recently purchased.
"Shellie Zimmerman wants this relationship to end with a whimper, not a bang."
As RadarOnline.com previously reported, Shellie filed for divorce from George last week.
"Apparently the young lady that was with him (George) indicated that there were guns in the car," Sims also said.
"The bottom line is, Shellie had every reason to believe there was a gun and to want the police there."
Authorities are still working to retrieve footage Shellie took on her iPad — which was destroyed by George during the altercation — of the incident, which Sims says will prove Shellie had reason to feel afraid.
Article continues below advertisement
"The complete evidence is the iPad, which you saw, was destroyed by the other guy," Sims said of George.
And when asked what life has been like for Shellie since George's acquittal in the controversial shooting death of teenager Trayvon Martin, Sims described it as "like she's been on the Tower of Terror and she's falling."
"These folks need to be on opposite sides of the country," he continued. "Shellie's desire is to stay as far away from him as she can… And hopefully he feels the same way about her.
"She's said it many times to me, when you don't know anymore the person who used to sleep next to you," Sims concluded.
"No more needs to be said."