Exclusive
He Has Form: Chris Brown Had Made A Series Of Homophobic Slurs... Before His Arrest On Felony Assault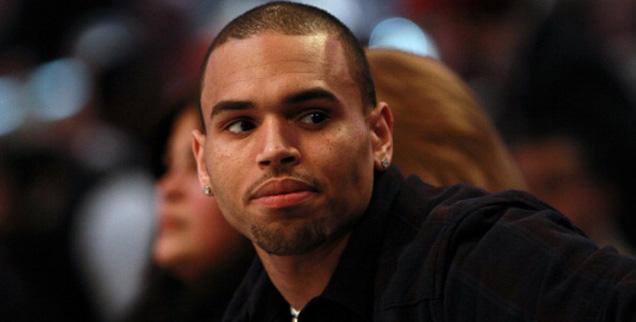 Chris Brown has form when it comes to using homophobic slurs — as the readers of RadarOnline.com know all too well.
The R&B singer is a serial offender, having logged a raft of incidents before his arrest in the early hours of Sunday morning when he was charged with felony assault, along with his bodyguard.
Brown and Christopher Hollosy allegedly attacked a man with their fists outside the W Hotel in downtown Washington at 4:25 a.m. Sunday, police have said.
Article continues below advertisement
The alleged vicim, Isaac Adams Parker, 20, of Beltsville, Maryland, told cops the singer said, "I'm not down with that gay s--t," when he tried to jump into a photo that Brown was posing for with a female fan on the sidewalk.
Parker said that Brown then punched him in the face with his closed fist, according to the police report.
While the 24-year-old Grammy Award-winner has denied he is a homophobe, Parker's claims are consistent with a number of other individuals who say they too have suffered the same fate... at the mouth of Brown.
Last year, a man claimed he was verbally attacked by Brown and called a "f***ot" at the Arclight movie theater in Hollywood.
Los Angeles resident Lucas Peter, an openly gay man, told RadarOnline.com he spotted Brown and his entourage and approached him to ask for an autograph — but was taken off guard by the singer's reaction.
"The movie let out and I saw Chris come out the front door, sort of semi-running. I approached Chris and asked him to sign my CD cover," Lucas said.
Article continues below advertisement
"His bodyguard stopped me and said Chris wouldn't be signing, so I told him Rihanna signs all the time. That's when Chris stopped in the garage by the parking pay stand and yelled 'f***ot' at me."
Brown was also at the center of controversy when quizzed by paparazzi for his opinion of gay artist Frank Ocean as he was leaving a nightclub in France.
Brown replied, "Man, no homo," which many interpreted to have been a homophobic swipe. At the time of that spat, Brown insisted it wasn't.
When he and Ocean clashed physically at a Los Angeles studio last January, Ocean alleged had been called "a f*ggot."
That led former *NSYNC star Lance Bass -- a gay man -- to say the use of the word "f*ggot" is no better than the "n" word.
In 2011, Brown also shouted anti-gay slurs during a pickup basketball game, stunning and repulsing onlookers.
"He got really ticked off when things didn't go his way during the game, saying, 'That's gay!' and 'You're a f*gg*t a**!' to the other players," an eyewitness said. Brown, at the time, denied he ever said it.
Article continues below advertisement
A year earlier, he and former B2K member De'Mario Thornton, used their Twitter accounts to engage in slurs and taunts against one another.
The arrest could trigger a series of serious consequences for the star, who remains on probation for the 2009 beating of his on-again, off-again girlfriend Rihanna just before the Grammy Awards.
His probation has already previously been revoked, albeit briefly, after a hit-and-run incident.
He is due back in court Nov. 20 in Los Angeles to update a judge on his progress.
Brown's representative did not immediately respond to RadarOnline.com's request for comment Sunday.