Chris Brown Denies Being Anti-Gay Amid Twitter War With Raz-B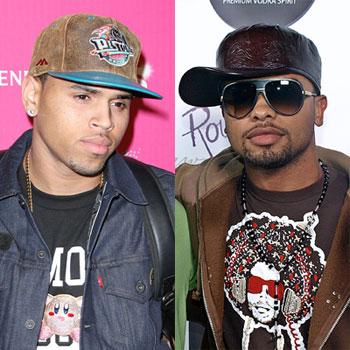 Controversial hip-hop star Chris Brown has taken to Twitter to defend himself over homophobic slurs he traded with former B2K member De'Mario Thornton who is also know as Raz-B, RadarOnline.com is reporting.
Brown -- who has over 1.2 million followers on his official Twitter page -- posted Thursday: LOVE ALL MY SUPPORTERS and people who know my heart.HOMOPHOBE?c'mon,find a better tactic.thats pure ignorance and stupidity. i love everyone
Article continues below advertisement
Brown and Thornton used their Twitter accounts to engage in homophobic slurs and taunts against one another which caused a stir on the Internet.
The exchange began after Thornton Tweeted, using the Twitter handles for, respectively, Eric Benet, Brown, Halle Berry, and Rihanna, "I'm just sittin here Thinking how can n—-s like @ebenet & @ChrisBrown disrespect women as Intelligent as @HalleBerry11 and @Rihanna.
Brown quickly Tweeted in response, "@razb2k, n—- you want attention! Grow up n—-!!! D— in da booty a– lil boy," and followed up with several tweets taunting Thornton over his accusations that he was molested by his ex-manager and one of his former group mates.
Thornton replied by accusing Brown of being on the down-low (i.e. in the closet). And in his latest Tweet, he taunted Brown about his infamous assault of his former girlfriend Rihanna.
Article continues below advertisement
Neither of their cyber rants reflect favorably on either of the two men although Thornton is clearly using it as a forum to get his name better known and it seems to be working as their feud is getting a lot of media play.
As RadarOnline.com has previously reported, Brown was sentenced to serve five years probation and to spend more than 1,400 hours in "labor-oriented service" for assaulting Rihanna.
The Forever singer must complete seven more sessions of domestic violence counseling and, to date, has completed 581 hours of community labor -- both a requirement of his August 2009 sentence.
He remains on probation and is scheduled to return to court on January 28, 2011 for a progress report.
RELATED STORIES:
Chris Brown Praised By Judge At Progress Hearing