From Plus-Size To Pageant Queen: How Miss America Lost More Than 50 Pounds -- See The Shocking Pics!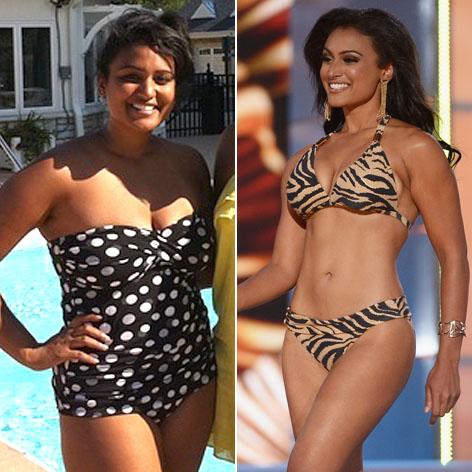 Striding across the stage in a leopard print bikini as millions watched, Miss America Nina Davuluri was the picture of body confidence during the pageant's swimsuit competition on Sunday night — but she hasn't always been bikini-ready.
Just two years ago, the 5'7" 23-year-old from New York tipped the scales at 170 pounds and she reveals her secret weight loss journey in a testimonial on her trainer's website.
Article continues below advertisement
Finding herself seriously out of shape after graduating college in May 2011, Davuluri says, "In four years I had put on over 50 pounds and was ashamed of myself for allowing myself to get so out of shape. I realized that I needed to make some serious changes if I wanted to get healthy and feel confident about myself."
Starting slow with diet tweaks and group classes at the gym, she lost 15 pounds in four months. "I felt that I had made progress and was pleased with my results, so I decided to stay at a comfortable 150 pounds," she recalls.
But then in February 2012 the former Miss Michigan Teen and 1st Runner-up to Miss America teen decided to dip a toe back into the pageant world.
"It has always been my dream to become Miss America," Davuluri explains. "I kept telling myself that I was too busy with school and other activities to compete.However, the underlying issue was that I was simply too nervous to walk in a swimsuit and heels on stage! It came to the point where I realized I was giving up on my dream simply because of my weight and confidence issues."
Article continues below advertisement
And so, she met up with trainer Tia Falcone, planning to shed 15 pounds in one month for the Miss Greater Rochester pageant -- the first step on her way to the Miss America crown.
With free weights, circuit training, resistance bands, kettle bells and more, all while following a strict food plan, Nina dropped even more weight and won the title of Miss Greater Rochester in April 2012. By June, she weighed just 117 pounds.
"In the three months I worked with Tia, I lost a total of 28 pounds!" Nina raves. "I never thought I could transform my body into what it is today and I could not have done it without Tia."
"Regardless of the number on the scale, or any competition," she says, "Tia has taught me that the most important thing we can do for ourselves is to take care of our health and well-being."
Ironically, Davuluri was recently accused of calling last year's Miss America, Mallory Hagan, "fat as f**k" during a recorded conversation. While she claims the allegations were false, she has revealed that she apologized anyways, because it "was the right thing to do."
Davuluri is not the only one to criticize Hagan's weight, however. In March, Hagen spoke out to defend her post-pageant weight gain, saying, "I think that I am human. I like to equate getting ready for Miss America pageant to getting ready for a boxing match. We get in shape and then afterwards life goes back to normal."