Beauty Queen Battle! Miss New York Calls Miss America 'Fat As Bleep'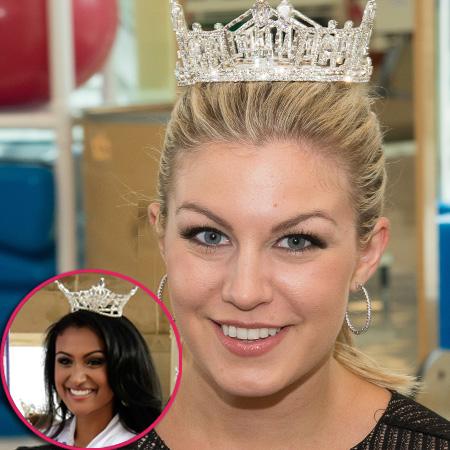 Beauty queen brawl! Instead of talking about world peace the ladies in the Miss America pageant might need a lesson in what not to say.
Miss New York, Nina Davuluri, was allegedly tape-recorded ripping into the reigning Miss America, Mallory Hagan, calling her "fat as bleep," according to the New York Post.
The incident allegedly happened after Nina was crowned Miss New York on July 16 and was celebrating her win in her hotel room in Staten Island, NY.
Article continues below advertisement
"Davuluri invited friends back to her hotel room after her win. A girl in the next room overheard their conversation, and was so offended she decided to tape part of it," a source told the newspaper.
"A friend of Davuluri was supposedly heard making racist remarks, and Davuluri is allegedly heard on the tape blasting Miss America, 'Mallory's fat as bleep.' The recording has been making the rounds of pageant contestants and officials."
Mallory came under fire earlier this year for her "weight gain" after critics said she looked heavier in a crown.
"I think that I am human. I like to equate getting ready for the Miss America pageant to getting ready for a boxing match," she said in her own defense.
Shocked by the alleged comments, the person who recorded the conversation told the board of the Miss America pageant, but they reportedly deny that Nina did anything wrong.
Article continues below advertisement
However, Nina wrote to Mallory on Facebook, denying that she said anything that was offensive.
"I want to apologize for the awful statements made by people in my room . . . There were people who claimed to be my supporters and said things I never agreed with, nor supported . . . I was never a part of the words or statements that may have been hurtful . . . I'm sorry if someone said something that was inappropriate."
A pageant rep told the newspaper that the incident had "no validity," despite Nina's apology.
"The situation was investigated fully back in July and there is no validity to the story whatsoever. Miss New York spoke to Mallory Hagan to let her know there was no validity and to apologize if she was offended in any way."
The Miss America pageant will be held on Sunday, September 15 in Atlantic City on ABC at 9pm and both women will be present.