Miss America Mallory Hagan Responds To Fat Jibes, 'I'm Human – Some Days I Want To Eat Potatoes!'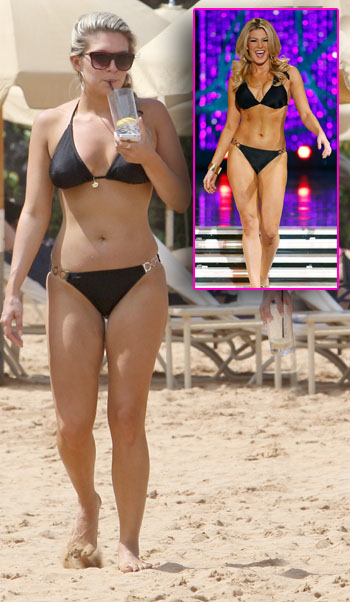 She has packed on the pounds since she was crowned Miss America in January but Mallory Hagan is making no apologies for her curvier figure!
The blonde beauty queen defended her body on Anderson Live Thursday — and RadarOnline.com has all the details.
Mallory's weight gain was recently criticized online after she was snapped on a beach in Hawaii with fellow Miss America contestant, Miss Hawaii Skyler Kamaka.
Article continues below advertisement
Both women were wearing bikinis and looked a little heavier than they did when they competed earlier this year.
But Mallory defended herself saying: "I think that I am human. I like to equate getting ready for the Miss America pageant to getting ready for a boxing match.
"We get in shape and then afterwards life goes back to normal."
The 24-year-old said that her busy schedule didn't make a healthy lifestyle easily obtainable.
She told guest hosts Tamar Braxton and Jane Velez-Mitchell: "I think a lot of people don't realize how much Miss America travels.
"I travel on average 20,000 miles a month so every 48 hours I am in a different place just about.
"So it's really a challenge to maintain that same body that I went to Miss America with."
She added: "It's all about being healthy. We're all about living a healthy lifestyle.
"Some days you want to eat potatoes and some days you don't…
"I struggle with it, just like every other young woman does as well. I think it's something we all strive to be better at but I am real."
The co-hosts standing in for Anderson Cooper were both very supportive, especially HLN TV host Velez-Mitchell who said: "I would love to look like that. I would give my right pinky to look like that."