Exclusive
Mafioso Whitey Bulger Admits Putting FBI Agents On The Payroll… Now Plans To Snitch In Tell-All 'Based On Truth For A Change'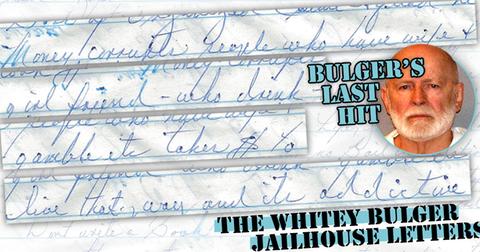 The Departed was real, after all.
In 2006, Jack Nicholson starred as a sinister crime boss in Martin Scorsese's Oscar-winning flick about the seamy world of Boston's Irish mob -- a world cold-blooded killer James "Whitey" Bulger ruled for decades.
Now, the real-life crime lord who inspired Nicholson's role has admitted that the movie's plot was far from fiction.
Bulger, in his own words, "corrupted" several FBI agents during his decades-long reign of terror on the streets of Massachusetts, funneling the rats in the feds' ranks cash in exchange for information on the department's investigations into his feared Winter Hill Gang.
Article continues below advertisement
The convicted killer, 83, made the shocking admission in his first-ever letter from prison after his August 12 conviction, provided exclusively by RadarOnline.com.
Bulger faced 32 counts during his trial, but he told a pen pal the main reason the feds were so intent to see him locked up behind bars for life was "for corrupting two FBI agents" -- who he boasted "were my 'Paid FBI Informants.'"
Throughout the course of the trial, he said, the government was especially intent on revealing his clandestine relationship with disgraced FBI double agent John Connolly, who he referred to as "J.Co" in the missive.
Bulger wrote, "In trial, (the) theme was Bulger got information from J.Co about pay me and who talking and Bulger would kill they… they gave examples -- I'm quoting the prosecutor!"
In 2002, Connolly was sentenced to 10 years in jail for racketeering and obstruction of justice charges stemming from his relationship with Bulger. He is currently incarcerated in a Florida state prison on a second degree murder conviction.
Article continues below advertisement
Explaining how he got his sources to work with him, Bulger wrote that, just like Matt Damon's character in the Oscar-winning film, crooked Connolly was "from the projects and soon on the pay roll."
"I bought information, never gave any -- and in time met the boss of the Organized Crime Squad -- he took dollars," Bulger wrote to a friend in the letter.
He explained the cocktail that kept his tipsters tied to him: "Money corrupted people who drink, gamble etc. It takes dollars to live that way and it's addictive."
But in the end, it was Bulger, not his informants, who were being played.
Bulger wrote that the same informants had been getting information from their own sources in Winter Hill Gang ranks, including Southie hit man Steve "The Rifleman" Flemmi, a hit-man notorious for pulling murder victims' teeth so they couldn't be identified.
"I was never aware that these agents were getting info from Steve since 1960!" Bulger revealed in the letter, postmarked from Inmate No. 1428AZ – his jail identification number when he was once an inmate at Alcatraz.
Article continues below advertisement
"I didn't get out of prison until 1965."
He later revealed even more of the agents' double-dealing.
"These two were clever guys," Bulger admitted. "Unknown to me, they faked a file to cover themselves incase (they were) seen in my company or loose lips on the phone that may compromise them."
He said the files also got the crooked agents "bonuses, prestige and career enhancement."
"Never aware until I get here (arrested after a 16-year manhunt) and my lawyer get the info on discovery," he wrote. "Shock to me."
Even though Bulger felt the sting of being double-crossed, even from prison, he insisted that he came out on top, despite his conviction, because he forced prosecutors to admit the FBI's history of double-dealing during the trial.
"Feel we did a good job on cross of feds to show they falsified the file," he wrote. "Long story and would take (more) paper to explain."
Perhaps most shockingly, the man who insisted during the trial that he was "not (a) f***ing informant" is now thinking of writing his own mob memoirs -- a narrative that could be even more intriguing than the plot of any Hollywood movie.
Article continues below advertisement
"Maybe at a later date you will read it in a book," he wrote to his pen pal, noting it would be "a book based on truth for a change."
Indeed, according to some reports, federal agents found drafts of his autobiography during previous searches.
Bulger will be sentenced on 31 counts in November.
Until then, he's in solitary confinement at the Plymouth County House of Corrections in in Plymouth, Mass.
Be sure to stay logged onto RadarOnline.com for more of "Whitey Bulger -- The Jailhouse Letters" publishing exclusively all this week.