Exclusive
Mob Kingpin Whitey Bulger Calls Murder Trial A 'Neck Tie Party And Stacked Deck' -- As He Speaks For The First Time Post-Conviction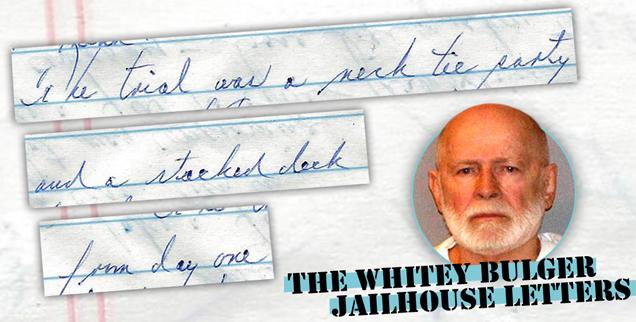 Now he'll talk.
Convicted mob boss James "Whitey" Bulger was defiant and stoic throughout his long-awaited trial this summer, opting not to go on the witness stand and answer questions about his decades-long reign of terror on the streets of Boston.
But now, in a blockbuster RadarOnline.com exclusive, the 83-year-old mafioso is speaking out at last.
In letters written to a Massachusetts man, the famed and much-feared head of the Winter Hill Gang doesn't hold back about his murder, extortion, money laundering, drug dealing and weapons possession convictions.
Article continues below advertisement
"Now that the trial is over lots of time to read and think," Bulger wrote to one of an old friend from "back home" on August 20, just eight days after a federal jury found him responsible for killing 11 people.
"The trial was a neck and tie party and a stacked deck from day one."
The mob kingpin continued, "They wanted (a) 'Show Trial' and revenge for corrupting two FBI agents."
The letters, written painstakingly in longhand, paint a picture of a bitter ex-gangster now confined to a lonely and powerless life inside solitary confinement at the Plymouth County Correctional Facility in Plymouth, Mass., where is he awaiting sentencing.
"Have been in isolation for two years here — 24 hours in a cell. Tuesday and Thursday and 23 hours in cell other 5 days," griped Bulger, who inspired Jack Nicholson's sinister crime boss character in the Oscar-winning film The Departed.
"I am off the scene and not much I can do for anyone out there."
The words from Bulger are significant because they're the first since he brought his murder trial to a flamboyant end, when he refused to take the stand and told court to "do want you want with me."
Article continues below advertisement
The letters, to be serialized on RadarOnline.com, reveal:
* Bulger's inner-most thoughts about longtime girlfriend Catherine Greig, 61, who is serving an eight-year sentence for harboring a federal fugitive;
* His offer of a plea deal to prosecutors and why it was rejected;
* New details of the pair's life on the run, living under assumed names, before their capture in a Santa Monica, Calif., apartment in 2011; and
* His views on Steve "The Rifleman" Flemmi and John "The Enforcer" Martorano, a Bulger hit man who claimed to have killed at least 20 people, the two men who testified against him after reportedly being offered reduced sentences;
* Bulger's plans for the future -- a development that is bound to anger victims of his violence.
Bulger's letter to his pen pal was postmarked from Inmate No. 1428AZ – his jail identification number when he was once an inmate at Alcatraz.
Article continues below advertisement
He signed off the missive "Jim Bulger" and seethed, yet again, that he never snitched: "I prefer to be a target of the Gov + Feds than a witness testifying for them!"
The notorious gangster faces a maximum sentence of life plus 30 years and is due back in court on Nov. 13.
Be sure to stay logged onto RadarOnline.com for more of "Whitey Bulger -- The Jailhouse Letters" publishing exclusively all this week.