Exclusive
Let Me Move Back Home Or I'll File For Divorce, Khloe: Lamar Odom Issues Ultimatum To Wife… As Their 4-Year Marriage Nears An End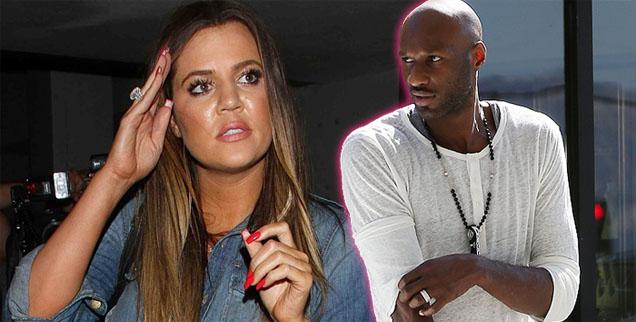 Serial philanderer Lamar Odom has threatened to begin divorce proceedings against Khloe Kardashian, RadarOnline.com can reveal.
The NBA star, 33, is yet to formally separate from his reality star wife, but the pair are leading separate lives -- he's been living in a hotel, she at their Tarzana, Calif. mansion -- in the wake of two women coming forward to sensationally claim that he bedded them.
Now, love rat Odom has issued Kardashian an ultimatum: "Let me move back into the house or I am going to file for divorce."
Article continues below advertisement
The sensational disclosure -- revealed to RadarOnline.com by a family insider -- places new strain on the couple's four-year marriage as it teeters perilously close to collapse.
As we reported, Kardashian family members also fear Odom has become hooked on the drugs OxyContin and Ambien and even secretly went to rehab last August.
"Khloe is refusing to let Lamar even set foot in the house right now... she kicked him out," the source said.
"Lamar is tired of living in hotels and is now threatening to file for divorce because he is tired of the situation. Khloe has given him no indication as to whether or not she wants to work on the relationship and save the marriage."
As we previously reported, Odom and Kardashian had been in marriage counseling until he abruptly stopped in June -- around the time he began a six-week affair with California lawyer Polina Polonsky.
Article continues below advertisement
Polonsky passed a lie detector test regarding her claims.
Her tawdry tale followed Odom's first accuser, Jennifer Richardson, who Odom met in January 2012 at the Stadium Strip Club in Washington, D.C., after playing a game for the Dallas Mavericks.
The pair reportedly rekindled their flirtation after a chance meeting in the lobby of the Charlotte, N.C., Ritz Carlton Hotel, eleven months later.
If one of reality television's most glamorous couples does indeed divorce, Kardashian will keep the couple's seven bedroom, five bathroom home, worth millions of dollars, under the terms of their pre-nuptial agreement.
Last Friday, Kardashian looked stressed when she was photographed leaving the gym, not wearing her wedding band.
That same day, it emerged Odom allegedly returned to hardcore recreational drug use after last basketball season, around the same time he was linked to the extramarital affairs.
Two sources told Radar his main vice is OxyContin, a prescription only painkiller sold in tablets, also known as 'hillbilly heroin' or 'poor man's heroin' because of its abuse in rural areas.
Article continues below advertisement
Oxycodone is a synthetic form of morphine, but is twice as strong.
"Lamar has lost a ton of weight in the last few months which triggered a lot of the concern amongst the family," one source said.
"Lamar does not want to go to rehab because pre-season training camps are just around the corner.
"He just doesn't care about anyone or anything right now. He has had it with the Kardashian machine... Everyone is very, very, worried about him."
The Clippers have reportedly offered Odom a contract for next season as a veteran, paying the minimum $1.4 million.