Exclusive
Kate Gosselin Files Multi-Million Dollar Hacking, Wiretapping & Identity Theft Lawsuit Against Ex-Husband Jon, Tell-All Book Author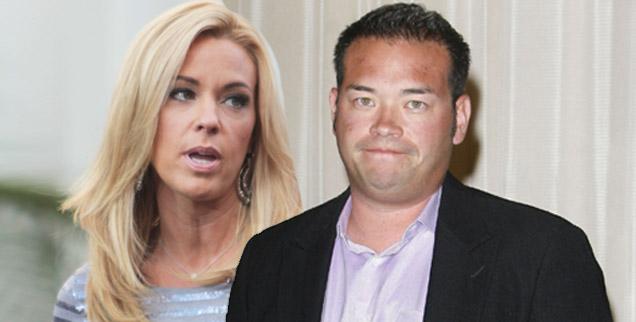 Former reality-TV star Kate Gosselin has filed a sensational multi-million dollar lawsuit against her ex-husband Jon accusing him of wiretapping, computer hacking, identity theft and invasion of privacy, RadarOnline.com has confirmed.
The one-time face of television network TLC launched her legal action in the United States District Court of Pennsylvania on Monday, alleging Jon conspired with Robert Hoffman, author of Kate Gosselin: How She Fooled The World, to illegally tap and access her bank accounts and computer without her authorization.
Article continues below advertisement
DOCUMENTS: Read The Gosselin V. Gosselin Complaint
"After the couple was separated, Jon illegally hacked into Kate's email account and her phone and bank accounts," the suit alleges.
"Jon also stole a hard drive from Kate's house, which contained private and confidential material. Jon the gave them the contents of Kate's email account and the hard drive, all of which were acquired illegality, to his friend and business partner, tabloid reporter Robert Hoffman.
"Hoffman used the illegally acquired data to publish a defamatory book about Kate ... the book was removed from large distributors like Amazon.com because the information was obtained illegally.
"Nevertheless, the damage was done with the release of the personal and private information and the defendants continue to possess this illegally obtained private information."
Kate, 38, said Hoffman, at one point, even "bragged" that he was in possession of 5000 family photos, personal documents, tax and business records, plus contracts.
Article continues below advertisement
In the filing, first published on BullyVille, Kate said Hoffman falsely claimed that he recovered the data from her computer by digging through her trash that he found on the street.
"This demonstrates his knowledge that the materials were obtained illegally, as it is a sign of an attempt to cover up his unlawful activities," the suit alleges.
"The materials in his possession could not possibly be physically found in paper format to that extend. If Hoffman was picking through trash on the street, he did not find this trove of personal information while engaging in his trash-picking endeavors."
Kate alleged Jon and Hoffman used the stolen information and "distorted the facts to make stories more salacious for the tabloids."
Monday's legal move confirmed the RadarOnline.com report from April that Kate intended on suing her ex.
As we previously reported, Hoffman used the information obtained from Kate's computer largely verbatim in his scathing e-book, which contained third-party contracts, emails and what was billed as Kate's private journal.
Article continues below advertisement
Kate's journal -- she has never confirmed its authenticity -- included passages where she talked about spanking her children and being afraid she would harm them.
The alleged conspiracy was first exposed via a series of text messages published on the website BullyVille by its founder, anti-bullying activist James McGibney.
In one, it appeared to prove Robert and Jon had joined forces to grab the ex-Dancing with the Stars contestant's computer.
"I'll be back soon grabbing Kate's computer before she gets home. I need that hard drive," read a text, dated October 14, 2009 from a number McGibney said he confirmed belonged to Jon.
Another text read, "I'm giving it to a good friend of mine to hold."
"No one will know," another missive charged. "Rob is going to say he took it from our garbage."
Indeed, Hoffman later told RadarOnline.com in an interview that he retrieved the computer in question her trash.
Article continues below advertisement
We also exposed a series of text messages sent in 2009 from Jon to his then-girlfriend Hailey Glassman in which Jon talks about grabbing Kate's computer to "put the nail in her coffin."
He also discussed how he is a silent partner and has a "pal" named Robert.
Before the highly publicized Gosselins divorced in 2009, the pair and their eight children starred in the reality show "Jon and Kate Plus 8" on the TLC cable channel.
The mother of eight is seeing compensatory, punitive, liquidated damages and attorney's fees and costs.