Exclusive
A-Rod Furious With Matt Lauer For 'Ambushing His Lawyer' During Live Television Interview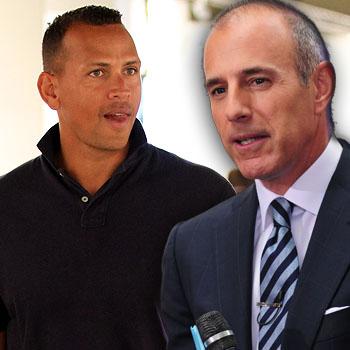 Article continues below advertisement
During the interview, Lauer told the respected legal ace that Major League Baseball had sent a letter to the network stating that it would waive a confidentiality clause in the Joint Drug Agreement and release information about his client's alleged use of steroids.
"They sent us a letter saying that if you're willing to sign this letter, that they are willing to waive the confidentiality clause in the Joint Drug and Prevention Program, that they'll be allowed to talk about everything and you'll be allowed to talk about everything," Lauer said. "They said that would include all prior violations of the program committed by Rodriguez, all documents, records, communications, text messages and instant messages related to Rodriguez's treatment by Anthony Bosch."
The embattled Yankee was "absolutely stunned that Matt ambushed Joe like that. Joe didn't have a chance to read the letter MLB had sent over before the interview took place. Joe was ambushed by Matt and Alex wasn't happy about it at all. He thought Joe looked like he had something to hide.
"Alex has nothing but respect for Joe and thinks he is doing a great job of representing him, but didn't expect Joe to be on the hot seat," a source close to Rodriguez told us.
Article continues below advertisement
However, a network insider told us, "This was a hard-hitting interview in which it was agreed, it would be no holds barred. Matt was simply doing his job and asking the tough questions. There was no ambush, it wasn't as if a crew confronted the Alex's lawyer in the street with this information. The lawyer agreed to come on the show, and Joe is very media-savvy."
Tacopina released a statement late Monday, calling the MLB letter a "publicity stunt."
Another baseball source told us, "Instead of being mad at Matt, MLB, the Yankees organization, perhaps Alex should take a long look in the mirror. Not once has Alex denied using steroids.
"All he is doing is creating a circus atmosphere to detract from the core issue at hand, the use of illegal steroids in baseball and his role in that."