Baseball Shocker: MVP Ryan Braun Tests Positive For Steroids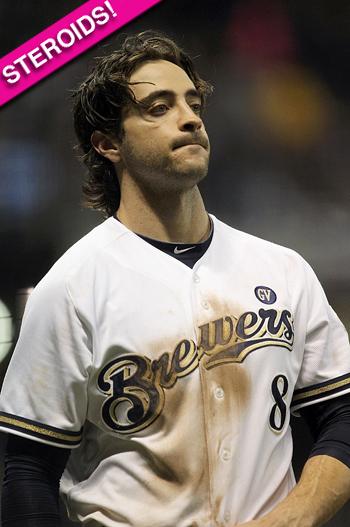 There's a stunning new scandal in the sports world Sunday, but this one is in the pro, not the college ranks.
Ryan Braun, the Milwaukee Brewers superstar, who won the National League's MVP award last month, has tested positive for steroid use.
He is facing a 50-game suspension, reports ESPN's Outside the Lines.
A spokesman for Braun confirmed the positive test and issued a statement:
"There are highly unusual circumstances surrounding this case which will support Ryan's complete innocence and demonstrate there was absolutely no intentional violation of the program. While Ryan has impeccable character and no previous history, unfortunately, because of the process we have to maintain confidentiality and are not able to discuss it any further, but we are confident he will ultimately be exonerated."
Article continues below advertisement
The 28-year-old Braun had to provide a urine sample for testing during the playoffs, and he was notified of the positive test sometime in late October -- about a month before he was named the National League's most valuable player.
Braun is considered one of the "faces" of pro baseball. he is one of the highest-paid players and is signed to the Brewers until 2020.
Last Spring, when it was revealed that Alex Rodriguez had used steroids in the past, Braun was asked if he was surprised.
NEW PHOTOS: Cameron Diaz & A-Rod Play Ball
"I don't know if I would say I was surprised. I feel like it was so rampant, so prevalent, in baseball during that time period that not much surprises me anymore," he told MLB.com. "If anything, I was surprised he got caught, that it came out this long after he supposedly did it."
Braun is appealing the test results, an arbitration hearing will be held in January.
ESPN points out that no baseball player has ever successfully appealed a ruling about using performance enhancing drugs.
RELATED STORIES: