Exclusive
Back On! Inside Miley Cyrus and Liam Hemsworth's Romantic Reunion In Canada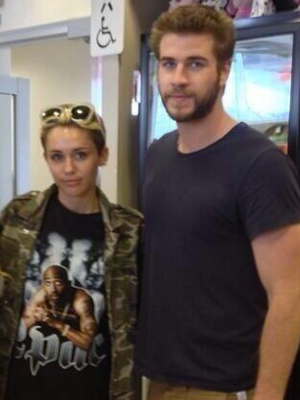 Miley Cyrus was telling the truth! After weeks of insisting that her relationship with Liam Hemsworth was still going strong despite rumors of a split, Miley was spotted reuniting with her man at the Jasper Park Lodge in Alberta, Canada, on Monday, July 8.
According to multiple eyewitness reports, the couple checked in to the luxury hotel on Sunday afternoon, and were not seen again until Monday, when hotel guest Katie Reinprecht spotted them hiking in the mountains nearby.
Article continues below advertisement
They also took time to pose with a fan elsewhere on the property, and Miley was spotted at a local Starbucks Monday afternoon as well.
The last time they were spotted together before this reunion was on June 17 at the Arclight movie theater in Hollywood.
Talk of a split had intensified last week, when Miley chose to vacation solo in the Bahamas after finishing promo for her new album, instead of heading up North, where Liam is filming Cut Bank.