Exclusive
Trial Separation? Miley Cyrus Vacations Solo In Bahamas -- Without Liam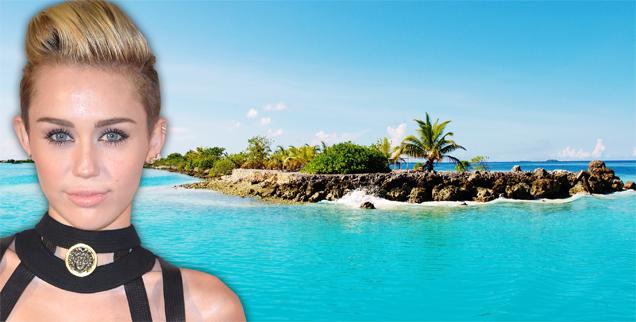 Miley Cyrus is still wearing her engagement ring, but increasingly, her protestations that things are just peachy with Liam Hemsworth don't quite have the ring of truth. After partying in Miami at the iHeartRadio Music Festival, she jetted off for a vacation in the Bahamas, while her boyfriend was thousands of miles away in Canada.
Twitter user Brittainy Trevathan snagged a pic with Miley at the Hope Town Harbour Lodge in Hope Town, on the Abaco Islands in the northern Bahamas, on Saturday, June 30. Rerportedly vacationing with "a guy named Stephen and a girl," Miley looked low-key in a baggy sweatshirt and no makeup. Other twitter users confirmed that she'd rented a cottage in the picturesque village hotel, but she seemed to be looking for relaxation after her recent jet setting, staying mostly on the property.
Article continues below advertisement
That wasn't the case just a few days before in Miami, however. On Friday and Saturday June 28 and 29, she was spotted getting wild at the Cameo nightclub in Miami, as Page Six first reported. Eyewitness DJ Affect posted a video of her and party pal Ke$ha getting down and tossing dollar bills as a scantily clad dancer grinded just inches away. According to Page Six, she even slapped the dancers on "the derrieres."
Her fiancee, meanwhile, was in Edmonton, Canada, where he is filming the new movie Cut Bank with hot blonde actress Teresa Palmer of Warm Bodies. And the two have definitely been getting close on set. On June 25, Teresa posted an instagram shot of Liam goofing around in front of her trailer window.
Miley and Liam were last spotted together on June 17, when they saw Man of Steel at the Arclight Theater in Hollywood.