The Royal Baby: 10 New Developments As The World Waits For Kate And Will's First Born!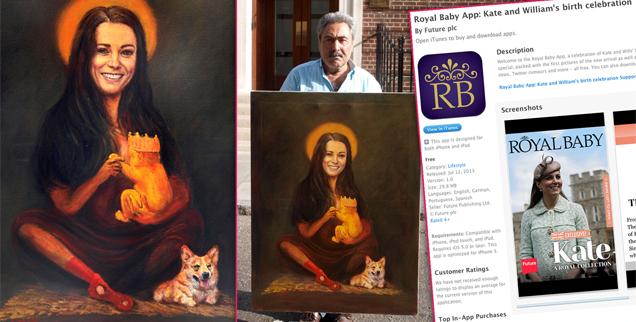 Kate Middleton's expected to give birth any day now to her first child with husband Prince William, and we've got the ten latest developments surrounding the little royal-in-waiting.
A Work Of Art: Artist Kaya Mar left a unique portrait of Kate outside the mass gathering near the hospital last week showing the royal holding a newborn wearing a crown. Sitting at Kate's foot is a smiling Corgi dog. Unusual, yes, but it can't be any worse than this famously-reviled portrait of Kate that debuted earlier this year.
Article continues below advertisement
Sign of the Times: A company named Future PLC has released the Royal Baby App, a free application that promises to deliver all things royal baby related to your mobile device, including news, photos and Twitter rumors. Smaller mini-apps in the app, the company says, boast "in-depth features, archive photography and the latest galleries of Wills, Kate, royal births through the ages, the happy great-grandparents, Uncle Harry and loads more!"
Hurry Up, Says The Queen: Queen Elizabeth, appearing Wednesday in Cumbria in Northwest England, was asked if she'd prefer her great grandchild to be male or female. She replied, "I don't think I mind: I would very much like it to arrive … I'm going on holiday."
Avuncular Speculation: Kate's uncle Gary Goldsmith predicts his niece (and her prince) will be stocking up on all things pink in the not-too-distant future. "I don't know the sex of the baby but my gut feeling is a girl," Goldsmith told HELLO!. "When I refer to the baby I say, 'She,' but I'm not sure why ... it is an incredibly joyous moment for us and it is going to be wonderful for the nation."
Article continues below advertisement
All Systems Go: "There is nothing left to prepare or plan for" at Buckingham Palace, as the staff has been "on call every day and night in July" in anticipation of the royal birth, insiders tell Us Weekly. The plan when Kate is ready for labor, the insider said, is to signal her secretary Jamie Lowther-Pinkerton, who will subsequently alert Kate's doctor Marcus Setchell on his phone -- which has "an encrypted signal so there's no way anyone can intercept it."
The Royal Birthing Room: Kate's fourth-floor room in the Lindo Wing of London's St. Mary's Hospital has been completely sanitized -- and quartered off under 24/7 security -- for more than two weeks, a source told US Weekly. The room, which costs $1,500 per-day, comes with both WiFi and satellite TV, meaning Will & Kate will be able to observe the news coverage of their little royal's arrival.
Hold Those Betting Tickets: As we previously reported, the first announcement of the birth will not be via tweet, Facebook post or news release but on an framed placard placed on an easel in Buckingham Palace's forecourt, last used to announce William's birth in 1982. The placard, however, will not reveal the baby's name, which the palace will release later on.
Article continues below advertisement
Preview For Gramps: Prince Charles, touring in Bude, a small town in England's Southwest, was confronted by a woman holding a newborn who told him, "You have got one of these coming soon." The prince wryly responded, "Hopefully."
Royally Bored: Queen Elizabeth's first cousin Margaret Rhodes, asked by CNN's Christiane Amanpour if she's excited about the imminent arrival, said, "Not terribly." Rhodes, 88, said, "Well you know, everybody has babies. And it's lovely. But I don't get wildly excited about it." Rhodes said she wished for the baby to have "just a jolly, happy, ordinary child's life."
Cornering The Market: Aside from Rhodes, CNN has a major special set to air Thursday titled Will and Kate Plus One, with exclusive interviews with palace personalities like Queen Elizabeth's cousin Lady Elizabeth Anson; the late Princess Diana's pal Lana Marks; and Middleton family friend John Haley, among others. New Day's Kate Bolduan will host.
Stay with RadarOnline.com for the latest news on the royal baby!