Prince William & Kate Middleton's Joy: 10 Things You Need To Know About The Royal Baby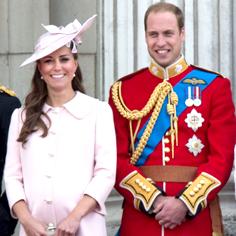 There's a royal baby on the way!
Duchess Kate Middleton is due shortly and with her husband Prince William by her side, Kate will give birth to one of the most anticipated baby's of the year — and RadarOnline.com is giving you 10 things you need to know about the royal baby.
1. Going Into Labor — As soon as Kate feels her first contraction she will notify her private secretary, who will then contact her doctor via a palace-issued cell phone with an encrypted signal, Us Weekly reports. Prince William will also get a call and be choppered in from Kensington Palace and then driven with a police escort to Kate.
Article continues below advertisement
2. Hospital Check In — Kate will be safely admitted to the hospital through a side door and into a $1,500-per-night suite that includes satellite TV and WiFi. A royal birth notice will be posted just inside on the gates of Buckingham palace, Time magazine reported.
3. Penny For Your Thoughts — Once the Prince or Princess of Cambridge is born, a sterling-silver commemorative penny from the Royal Mint will be issued and will be given to all baby's born in the U.K. on the heir's birthday.
4. All Bets Are On! -- Bookies are placing bets on everything from the royal baby's name to what sex it will be and whether or not it inherits the recessive red hair gene. According to William Hill, bookies are offering 4-1 odds that the baby will get Harry's red hair.
5. Baby Name — "They have yet to decide on a name," a palace aide told Us. "And they probably won't until the day of the birth." A royal expert author explains the reason why: "It has to do with protocol," Marcia Moody said. "The child will probably have three or four Christian names and they will have to go through certain channels, to make sure of details such as who's previously had that name."
Article continues below advertisement
6. Great-Grandma — When the baby is born, Queen Elizabeth will become a great-grandmother. A still-serving monarch hasn't been alive to see the birth of their great-grandchild since 120 years ago when Queen Victoria's great-grandson, the future Edward VIII, was born, Time magazine reported.
7. Baby's First Photo Shoot — When the baby is born, gawking fans won't have to wait long to catch a glimpse. Prince William and the Middleton family will immediately give a press conference while Kate rests, and then after just one night of recovery, William and Kate will pose with their new addition outside on the hospital stairs, Us Weekly reported. The exterior of the hospital was even power-washed for the occasion! And of course once the baby is 2-weeks old, they will sit for an official family portrait.
8. Royal Lullaby — The royal baby has already had a special lullaby written for them, called Sleep On. According to The Telegraph, composer Paul Mealor wrote the tune and it will be performed and recorded by Hayley Westenra and sent to Kate and William in time for their July due date.
9. Home Sweet Home — With more than 180 photographers already camped outside of the hospital, hundreds of well-wishers are also expected to embark on the venue once the baby is born to watch as the three of them travel home to Nottingham Cottage. Us Weekly reports they will not have live-in assistance with a source revealing, "They want to be hands-on parents."
10. Baby's Baptism — The baby is expected to be christened by the end of the year, or in early 2014. The ceremony will be held in Buckingham Palace's Music Room where they will gather around a 172-year-old Lily Font and the Archbishop of Canterburry will baptize the baby with holy water from the River Jordan, the magazine states.