He's Not Going To Turn Into A Frog! Super Cute Toddler Dressed Like A Princess Snubs Kiss From Prince William!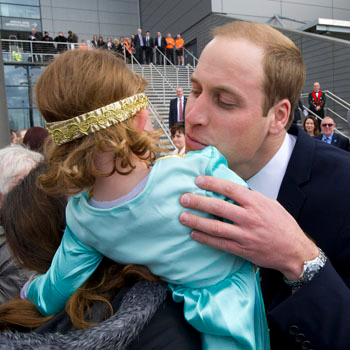 This doesn't look good for future father Prince William!
The Duke of Cambridge tried to give a friendly kiss to a little toddler during a royal visit to Scotland Thursday - but she had very different plans - recoiling shyly when William puckered up, and RadarOnline.com has the super cute video and photos!
Glaswegian-born 4-year-old Shona Ritchie, who was dressed as a princess for the occasion, even rebuffed William's advances when he told her he admired the pretty flower in her hand - in fact, Shona quickly pulled it from his grasp because she wanted to give it to Kate Middleton instead!
Article continues below advertisement
"Ooh, is that for me?'" William asked Shona about the red flower she was gripping tightly — but… apparently not! as Shona immediately thrust the flower in Kate's direction, forcing the Prince to diplomatically say: "No, you want to give it to Kate. Quite right."
Then, when the Prince hoped for a condolence kiss, the little girl turned her face away - to which a smiling William said, "Oh, next time, Shona, next time."
Shona and her mother Karen Ritchie, 34, were waiting patiently for the royal pair outside the Emirates Arena.
Her mom revealed that she was waiting all day for a kiss from the Prince, but got all shy when her dream finally came true, the MailOnline reports.
"She's been dressed up like that since 6 a.m. today and we've been here waiting since 9. But when she finally plucked up the courage to ask him, she got really shy and pulled away," Karen said.
"As he leaned in to kiss her on the forehead she pulled away and got really shy. This is the quietest she's been all day."
Despite her setback with the Prince, Shona did get her wish to present Kate, 31, with the flower and the two had a cute exchange.
"She said Shona looked very pretty and asked her if she had picked the flower from her garden, but Shona told her she got it from my vase in the house and she thought that was very funny."