Pretty In Polka Dots! Pregnant Kate Middleton Plays With William & Harry At Harry Potter Studio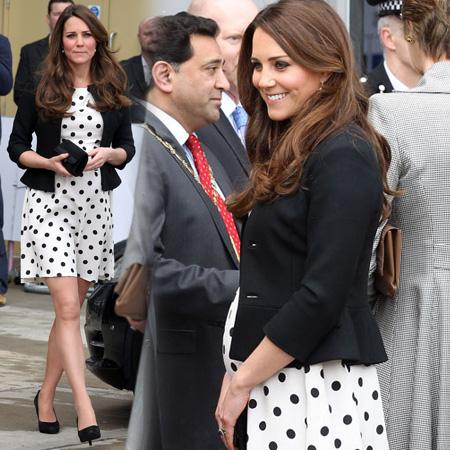 Kate Middleton proudly showed off her baby bump in a polka dot dress, and RadarOnline.com has photos of the pretty pregnant princess.
The Duchess of Cambridge, Prince William and Prince Harry attended the inauguration of the Harry Potter exhibit at the Warner Bros. Studios in Leavesden, Hertfordshire where they played with props from movies and posed like Harry, Hermione and Ron with magic wands.
Showing off the royal baby bump in a $58 Topshop dress that sold out within an hour of her appearance, Kate was a good sport, while William gushed over the Batmobile in his speech, saying: "To be honest, I'm over the moon just to have seen the real Batmobile and Batpod – you don't do baby seats for those cars, do you, by any chance?"
Article continues below advertisement
He then gave a good-natured dig at his brother, joking: "On the other hand Harry's just excited to see a real life talking owl in the Harry Potter studios.
"I haven't told him yet that Harry Potter is fictional, so please keep the secret for a little longer."
Kate and William are expecting their baby in mid-July but they've remained mum on the gender of the little one.