Pretty Pregnant Princess! Kate Middleton Shows Off Growing Baby Bump In Flowered Dress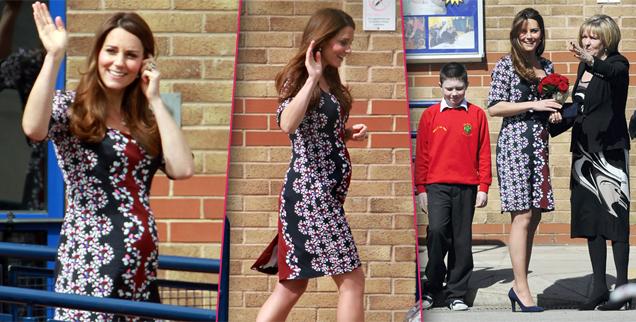 Kate Middleton is glowing now that she is just a few months away from giving birth, and RadarOnline.com has new photos of her showing off her growing baby bump at a charity event on Tuesday.
The Duchess of Cambridge, 31, wore a $1600 Sophia Visconti-bloom silk dress by Erdem that showed off blossoming belly and her still trim figure and toned legs.
Prince William's wife toured the Willows Primary School in Manchester, which was struck by tragedy when vandals burned the $60,000 playground down early this month after her visit was announced.
Article continues below advertisement
The community rallied and rebuilt the playground in time for Kate's Tuesday visit and after a private meeting with children who have participated in the counseling program at the school, which is a partnership between her Royal Foundation, Comic Relief, Place2Be and Action on Addiction she gave a speech.
"Addiction is a hugely complex and destructive disease and its impact can be simply devastating. All too often, lives and families can be shattered by it. Through my Patronage of Action on Addiction, I feel fortunate to have met a wide range of inspirational people who have overcome addiction. It is so encouraging to see that with the right help - like that of Action on Addiction - it can be conquered," Kate said to the crowd.
She was presented with a large gift box – a basket full of goodies -- for her dog Lupo from the school's "executive dog" Henry, and when she was told what was inside Kate laughed and jokingly said: 'Henry, you have gone to so much trouble."
Kate has said that the royal baby is due in mid-July.