Paris Jackson Restricts Hospital Visits From Katherine Jackson, Debbie Rowe — But Lets Former Nanny Grace Rwaramba Visit, Says Report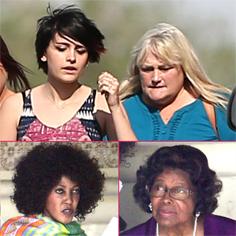 Article continues below advertisement
Said the insider: "The whole situation is getting worse by the minute."
In addition, Rowe is persona not grata with Paris's older brother -- and her biological son -- Prince, who the magazine reports "wants nothing to do with Debbie, as he believes she abandoned them."
Rwaramba spoke with RadarOnline.com exclusively last year, during the family's well-publicized internal upheaval. After Paris had raised some eyebrows with her publicly forward reaction to the situation, Grace implored the public to "give Paris a chance to make and learn from her mistakes without demonizing her.
"She is a spirited, very expressive and dramatic young girl. The traits that made her the apple of her father's eye are the same traits that she must learn to control as she matures into adulthood.
"Until then, please take her tweets with a grain of salt," Grace said, adding that "no child should have 700,000 followers on Twitter or any other social media platform."
If you, or anyone you know, is struggling with thoughts of suicide, please immediately seek help — you can speak with a skilled, trained counselor at a national Suicide Prevention Lifeline crisis center in your area, anytime 24/7 — call 1-800-273-TALK (8255).