Charles Saatchi, Husband Of UK Celeb Chef Nigella Lawson, Describes Photographed Altercation As A 'Playful Tiff'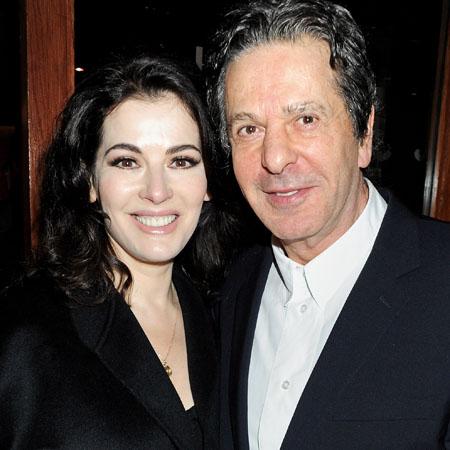 We've got more as the investigation continues into the incident between English TV chef Nigella Lawson and wealthy art collector husband Charles Saatchi on the patio of Scott's, an upscale Mayfair restaurant -- all of which which was photographed and published in a UK tabloid -- as Saatchi summarized the disconcerting exchange as a "playful tiff," and downplayed the crude images as giving "a far more drastic and violent impression of what took place."
Article continues below advertisement
In the series of images, we see Saatchi, 70, repeatedly grab Lawson, 53, by the neck and the nose before storming off from the table.
Explaining his side, Saatchi released a statement to London's Evening Standard newspaper, saying that "about a week ago, we were sitting outside a restaurant having an intense debate about the children, and I held Nigella's neck repeatedly while attempting to emphasise my point.
"There was no grip, it was a playful tiff."
He wrote that "Nigella's tears were because we both hate arguing, not because she had been hurt. We had made up by the time we were home. The paparazzi were congregated outside our house after the story broke yesterday morning, so I told Nigella to take the kids off till the dust settled.
An eyewitness told the UK's People that the exchange between the couple of 10 years "was utterly shocking to watch.
Article continues below advertisement
"I have no doubt she was scared. It was horrific, really. She was very tearful and was constantly dabbing her eyes," the eyewitness told the magazine. "Nigella was very, very upset. She had a real look of fear on her face. No man should do that to a woman.
"She raised her voice and got angry but at the same time was trying to calm him down, almost like you would try to calm down a child."
As we previously reported, Lawson -- a famed TV chef and cookbook author who stars in the ABC reality cooking show, The Taste -- fled from their home in the wake of the incident, and police have acknowledged they "are aware of the Sunday People article.
"Enquiries are in hand to establish the facts of the incident," a spokesman for the London Metropolitan police said.
The restaurant where the incident took place released a statement saying, "The staff and management at Scott's are aware of the reports in the media and would like to make it clear that they did not see the alleged incident nor were they alerted to it at the time."