Lindsay Lohan Glams It Up With Farrah Abraham's Sex Tape Co-Star James Deen, In New Shots From The Canyons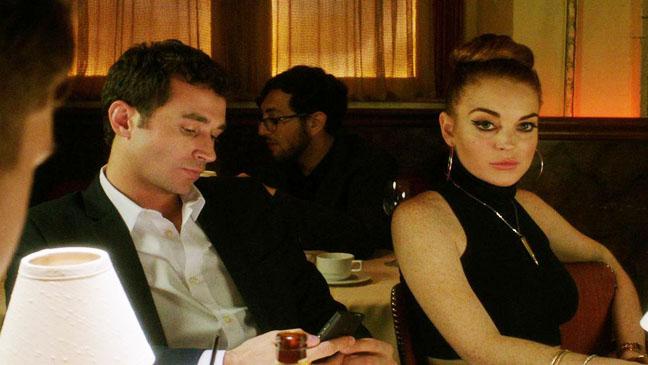 Article continues below advertisement
It's interesting to note that Deen hasn't gotten along too well with either LiLo or Farrah: He derided a Farrah photo op -- in which she was buying a pregnancy test after their on-camera rendezvous -- as an "offensive" publicity stunt; and said that Lohan "acted like a child" on the set of their upcoming film.
The real-life Dirk Diggler said earlier this year, "In porn, I am used to working with professionals who are courteous to others, but Lindsay was like a child lashing out -- there were days when she would scream and yell and cry and refuse to come out."
He's since backed off the aggressive stance, wishing Lindsay the best in her ongoing rehabilitation efforts.
The Canyons director Paul Schrader told IndieWire he welcomes the controversy of putting the tabloid queen and porn stud -- along with quotable screenwriter Bret Easton Ellis -- on the same project, then watching the sparks fly.
"To be honest, it's something we created. We stirred the pot, simply with the casting of Lindsay and James," Schrader said. "Lindsay brings with her, her drama, and then Bret, he has a very promiscuous Twitter finger, and he can always be relied upon to upset somebody with some tweet."
The Canyons will be in theaters Aug. 2 in New York, and Los Angeles (as well as VOD and iTunes) the following week.