Brad Pitt Responds To Melissa Etheridge's Remark That Angelina Jolie's Double Mastectomy Decision Wasn't The 'Brave' Road To Take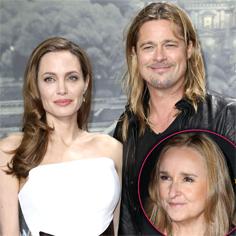 Brad Pitt -- asked about Melissa Etheridge's comment that his partner Angelina Jolie's decision to get a double mastectomy wasn't "the brave choice" in hopes of preventing a high probability of cancer -- played his cards close to the vest.
Apprised of the remarks at the World War Z premiere in New York Monday, the A-lister, 49, told Extra, "Oh, I didn't know, I haven't seen her… Melissa is an old friend of mine, so I'll have to give her a call."
Article continues below advertisement
As we previously reported, Etheridge, a breast cancer survivor herself, told the Washington Blade she didn't feel Jolie's decision was one borne of bravery, but rather one of fear.
"I wouldn't call it the brave choice," she said. "I actually think it's the most fearful choice you can make when confronting anything with cancer."
In the controversial interview, the Come to My Window singer said she feels beating cancer can come down to mind over matter.
"My belief is that cancer comes from inside you, and so much of it has to do with the environment of your body," she said. "It's the stress that will turn that gene on or not. Plenty of people have the gene mutation and everything, but it never comes to cancer, so I would say to anybody faced with that, that choice is way down the line on the spectrum of what you can do and to really consider the advancements we've made in things like nutrition and stress levels."
As we previously reported, Jolie last month revealed she'd undergone a double mastectomy earlier this year, after learning she carried a gene that left her with an extremely high chance of breast cancer.
Pitt's World War Z hits theaters Friday.