Exclusive
Defiant Concert Promoter Could Still Call Paris Jackson To Testify In Wrongful Death Lawsuit, Despite Suicide Attempt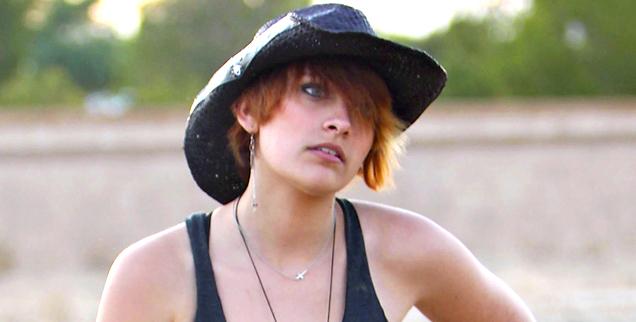 Jackson family matriarch Katherine Jackson will fight plans by entertainment powerhouse AEG to still call troubled teen Paris Jackson to testify in her late father's $40b wrongful death suit, RadarOnline.com has exclusively learned.
Lawyers for the Jacksons are preparing to formally oppose the move to put Paris, 15, in the witness box, sources connected to the case said.
As RadarOnline.com previously reported, the daughter of the King of Pop slashed her wrist because she was "emotionally distraught" over having to testify in the civil case against AEG.
Article continues below advertisement
One source close to the defense said Thursday: "At this point, there are no guarantees that AEG won't call Paris as a witness. Paris is a plaintiff in the case and Katherine's lawyers said in the media that she is their primary witness and couldn't wait to put her on the stand. This was said before the suicide attempt."
Before Paris was rushed to a Los Angeles area hospital in the early hours of Wednesday after a bid to take her own life, the teenager was listed as a witness along with grandmother and guardian, Katherine, brother Prince Jackson and Jackson's ex-wives Lisa Marie Presley and Debbie Rowe. Attorneys for the plaintiffs have listed 97 possible witnesses and the defense 113.
The suit alleges that AEG negligently hired and supervised Dr. Conrad Murray, who was convicted in 2011 of involuntary manslaughter in connection with the "Thriller" singer's death.
The defense insider added that "nobody wants to put Paris, Prince or Katherine, for that matter, on the stand, but they are the ones suing AEG."
"It's just a tragic situation all the way around," the source said.
But a source close to the famed music family told Radar: "The last thing this young lady needs in her life is to get up on the witness stand and be grilled by lawyers. Katherine's team will argue that since Paris has already been deposed, that should suffice. It can be read into evidence for the jury to hear."
Article continues below advertisement
On Wednesday, Kevin Boyle, one of Katherine's attorneys, told the media that there was no pressure being placed on Paris to testify, from their side.
"It is AEG who is putting this case at Paris' back door," he said.
In response, a lawyer for AEG, Marvin Putnam, insisted the concert promoter still had not decided who it was going to call.
"We have to know what they're putting on as a case before we decide what our defense will be," he said.
"There's a 15-year-old girl and something incredibly tragic has happened that none of us know why and I think it would really be in everyone's best interest and particularly in her best interest if rather than blowing this up into something else, that they were given a little bit of privacy to deal with something that has to be a tragic, tragic moment for all of them."
"She's 15," he added. "Someone should give her a break."
If you, or anyone you know, is struggling with thoughts of suicide, please immediately seek help — you can speak with a skilled, trained counselor at a national Suicide Prevention Lifeline crisis center in your area, anytime 24/7 — call 1-800-273-TALK (8255)