Exclusive
Paris Jackson's Grandmother Katherine Says She's 'Getting Appropriate Medical Attention' After Suicide Attempt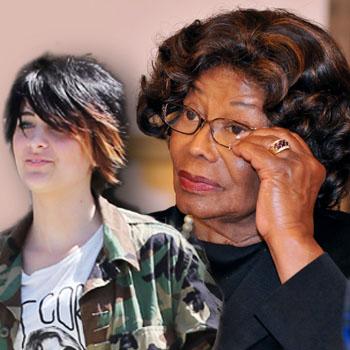 Paris Jackson's grandmother Katherine spoke about her tragic suicide attempt and told RadarOnline.com exclusively that the teen is "fine and getting appropriate medical attention."
Michael Jackson's only daughter was rushed to the hospital early Wednesday morning after a suicide attempt and Katherine, who is her guardian, released a statement about her condition.
"Being a sensitive 15-year-old is difficult no matter who you are. It is especially difficult when you lose the person closest to you," Michael's mother and the Jackson family matriarch told RadarOnline.com.
Article continues below advertisement
"Paris is physically fine and is getting appropriate medical attention. Please respect her privacy and the family's privacy."
A source told RadarOnline.com that Michael's daughter has been distressed over his wrongful death trial.
"She's very upset that she will be called as a witness in her father's wrongful death trial, in which she is a plaintiff," the source said.
The four-year anniversary of her father's death is approaching and several family members are suing the promoter of what was supposed to be his final concert.
In addition to her depression over being a witness in that trial, Paris also feels guilty about spending time lately with Debbie Rowe, her biological mother. Paris, according to one source, feels as if she is betraying some family members, including her grandmother Katherine, by getting to know her mom.
In addition, her close relationship with older brother Prince has been strained lately. "He doesn't like her spending time with Debbie," a source told Radar. "And Prince has been spending more time with his girlfriend.
If you, or anyone you know, is struggling with thoughts of suicide, please immediately seek help — you can speak with a skilled, trained counselor at a national Suicide Prevention Lifeline crisis center in your area, anytime 24/7 — call 1-800-273-TALK (8255)