Exclusive
'Storage Wars' Cuts Out Two More Cast Members In Aftermath Of Dave Hester Lawsuit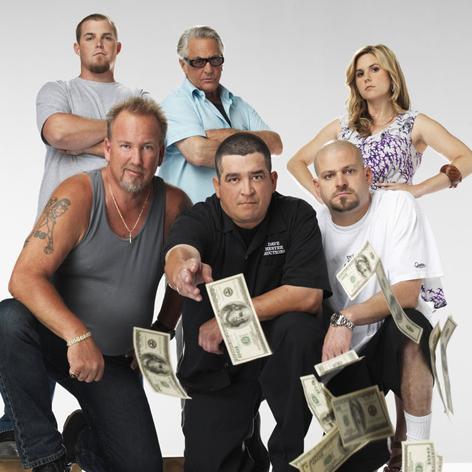 Here's one item certain cast members of the reality show Storage Wars won't find in an auctioned locker: a contract to appear in all of the show's episodes!
In the aftermath of Dave Hester filing a lawsuit against the A&E network and the production company, at least three familiar faces have now been cut back on the hit show, RadarOnline.com has learned exclusively.
Article continues below advertisement
We broke the story that Hester was frozen out by execs and then filed suit, complete with charges that the show is faked in many ways, including valuable items being "seeded" in bought lockers, to add drama.
Now RadarOnline.com has learned that Darrell Sheets was frozen out of approximately six extra episodes of Storage Wars. And auctioneers Dan and Laura Dotson were also cut back in the season that just finished shooting.
"They lived up to Darrell's contract, but then shot more episodes that weren't covered by his contract and kept him out of those," a source familiar with the situation told RadarOnline.com. "He was not happy to say the least."
Sheets, known as "The Gambler" on the show, is a popular character but the source explains the motive for cutting him back was money.
"It seems as if they are going after some of the higher paid cast members," the source said. "And meanwhile they are expanding the franchise. "
Article continues below advertisement
The Dotsons are not happy about their reduced role either.
"They make good money and they need the money," a source said. "Suddenly the show just told them, 'We don't need you for this episode.' And then it happened again.
"So they've been battling to stay on the air, and they are worried about their futures. The show is a gold mine."
Hester, who was a central character on the show, still has his lawsuit pending. He charges that execs paid some cast members to "rent" intriguing items and "seed" them in lockers. Other items were placed in lockers by production company members, to be discovered on camera.
And Hester says ALL cast members are aware of the show being faked and it was discussed openly before the show booted him.
Sheets has not directly addressed those allegations when questioned by RadarOnline.com on Twitter in the past, and he desperately wants to stay on the show.
"The show has a few months before the deadline to offer contracts for its next season," an insider told RadarOnline.com. "Sheets and Dan and Laura don't know what's going to happen to them.
"They could be replaced with cheaper talent."
Be sure to follow us on Facebook and tweet us @Radar_Online.