Exclusive
Is Something Rotten At Kitchen Nightmares' Controversial Restaurant? 'Fan Pages' Suddenly Pop Up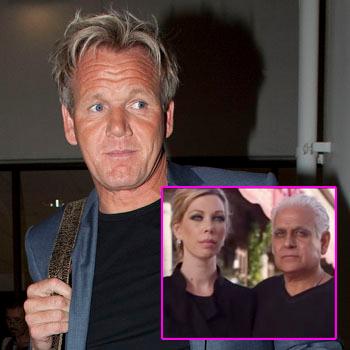 Since their controversial appearance on Kitchen Nightmares, fan pages in support of Amy's Baking Company have been popping up everywhere and an insider exclusively tells RadarOnline.com that restaurant owners Amy and Samy Bouzaglo are suspected to be behind them!
After receiving 'hate mail' by the thousands online, a fan page called 'I Love Amy's Baking Co.' was just created on Tuesday and the posts created have readers pointing the finger directly at Amy as the woman running the page.
Article continues below advertisement
One post in particular on the fan page — which claims to be ran by "the people that support" the restaurant — that has readers believing it's Amy behind the page reads:
"I AM TRYING TO BE GOOD HERE I KNOW >>GOD<< IS ON MY SIDE BUT THE CYBER BULLIES ARE REALLY GETTING TO ME TONIGHT!!! I JUST THANK GOD FOR MY TRUE FANS, THANK GOD FOR MAKING AMY AN AMAZING CHEF, AND CANT WAIT TO GET MORE FAN MAIL FROM ALL OF THE HUNDREDS AND THOUSANDS OF AMY FANS OUT THERE. BULLIES TAKE A HIKE YOU DONT KNOW ME YOU DONT KNOW GOOD FOOD."
"i bet $5 amy made this page," one commenter wrote in response while another echoed, "uh... Amy?"
One reader pointed out, "Sentence structure the same, >>GOD<< is the same, Cyber-bullies, and 'don't know good food' are ALL things you have said elsewhere."
"Even though Amy and Samy claim their accounts have been hacked, Amy is still always online posting new things and responding to all and every hater that she possibly can," a source close to the couple told Radar.
Article continues below advertisement
"Customers will be able to decide who is correct: a famous celebrity chef or the marketplace that has supported the small, locally-owned business for six years," the press release stated.
"Diners will also have the opportunity to meet and judge for themselves the character of owners Amy and Samy Bouzaglo, who have devoted their lives to and earn their living from their small restaurant."
Do you think Amy has gone so far as to make fake fan pages for their own restaurant, or has the couple gained public support after the airing of their episode? Sound off below…