Exclusive
Would You Give A Junkie $500k? Pals Concerned Over Cat Marnell's Mega Book Deal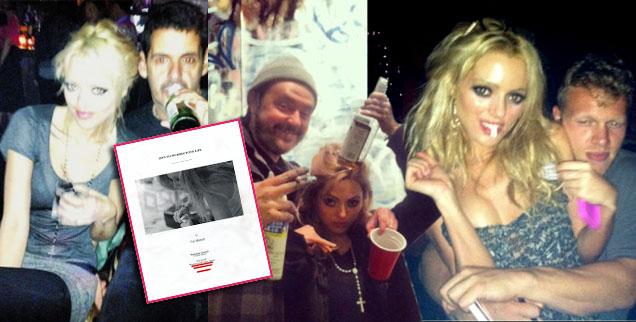 A drug addict can do a lot of damage with half a million dollars, so it's not surprising that friends of controversial Vice blogger Cat Marnell are terrified she's going to act like a kid in a candy store with the huge advance from her upcoming memoir.
"She got a $500,000 deal with about a third of it up front, and as everyone knows, it is really dangerous to give an addict that much money," a close pal of the former Conde Nast and xojane.com beauty editor exclusively tells RadarOnline.com.
Article continues below advertisement
"She's saved all the sex stuff for the book, when you're a really druggy person, the last thing you want to do is write about your sex life, because it's not happy stuff. It is sad and you black out in the middle of it," the friend says.
Currently sober after a tropical visit to The Cabin in Chiang Mai rehab center in Thailand last December, friends are worried about the effect the huge amount of money Marnell has been advanced will have on her newly embraced clean living lifestyle.
Article continues below advertisement
"Cat has already been seriously tempted to go off the rails and go crazy because everyone is super excited about the book," reveals the insider. "Her agent did have to convince everyone that she's as straight as she's ever been, her deal definitely got some people nervous that she wasn't going to be clean enough."
And judging by her track record, they certainly have cause for concern!
"She is definitely planning on writing parts of the book while she is high," the pal says. "Cat has never written anything sober! Despite what she says about learning to write sober, she really doubts her abilities to do anything without tons of Adderall.
"It'll definitely be a roller coaster, and with a lot of money in your pocket you can do anything you want," reveals her friend.
However, the friend insists that rather than celebrating the glamour of the New York City party scene as Cat has attempted to do in her Vice column, How to Murder Your Life will be a much darker read, detailing the sad, lonely and seedy side of drug addiction.
"It is a real portrait of an honest drug addict," the friend says. "Cat has had the success now after taking performance-enhancing drugs but she doesn't promote them. Whatever people think of her story, she is an example of what happens when you put your kid on Adderall and proof that they don't necessarily go off it when they finish college."
Article continues below advertisement
The Vice column really took Marnell's writing in a different direction, and she worked hard on her book proposal in a bid to make her memoir a best seller, but the thrill of just screwing it all up and dropping out once again still stimulates her, warns her long suffering friend.
"This is the calm before the storm," the pal warns. "She always lays low for winter and then when the weather gets warm she starts going out a lot, by the time it is summer she goes crazy.
"She even drank on the plane on the way home from rehab in Thailand. Clearly she's not ready to sober up and is bound to get back full time onto Adderall, along with PCP and alcohol," they predict.