Exclusive
Hitting A Lowe Point? It Was Rob Lowe Who Advised Maria Shriver To Turn To Buddhism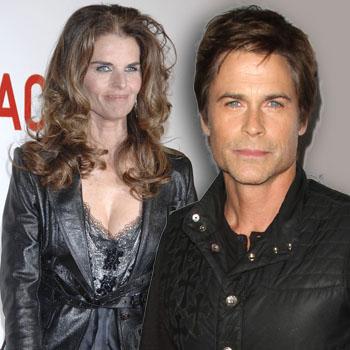 Maria Shriver was inspired to take a Buddhism class by close pal Rob Lowe, RadarOnline.com exclusively reports.
The former Brat Pack actor turned to Buddhism in his adult years after years of alcohol abuse and thanks the practices for helping him stay sober for more than 20 years.
And it was the Parks and Recreation star who suggested that the former First Lady of California should try it for herself to "ease her mind."
Article continues below advertisement
"Maria carries the weight of the world on her shoulders, she's constantly worrying about things," a source confirmed.
"She is very close with Rob and his wife Sheryl, and they often dine with each other in their homes in Santa Barbara.
"During those dinners, Rob, who is a very spiritual person, would often talk about his Buddhist beliefs and how he credits it to helping him overcome his demons, including his past alcoholism.
"Maria hasn't got any addictions, but she has had a rough few years in her life. Rob suggested she should look at Buddhist methods to help ease her mind of her concerns," the source added.
As RadarOnline.com previously reported, Shriver is taking a spiritual path of enlightenment to deal with her painful past.
She recently attended the class "Feeding Your Demons" based on Tibet practices and sat front row center for the intense five-hour course and was one of 100 students attending. Esteemed author and international teacher Lama Tsultrim Allione was the instructor for it at InsightLA in Santa Monica on April 10.
Maria may have stood out in the capacity crowd, but she was definitely serious about the lesson," a source at the event told Radar. "She took her shoes off like the rest of the students and settled in.
Maria Shriver 'Very Angry' At Arnold
"The seminar was about how to get rid of bad emotions, phobias, or painful pasts. A really awkward moment occurred when the teacher was discussing a student whose husband divorced her and left her for another women who then became suicidal. While the teacher was NOT referring to Maria, some stared at her – it was very uncomfortable."