Rob Lowe Reveals His Road To Rehab In Tell-All Book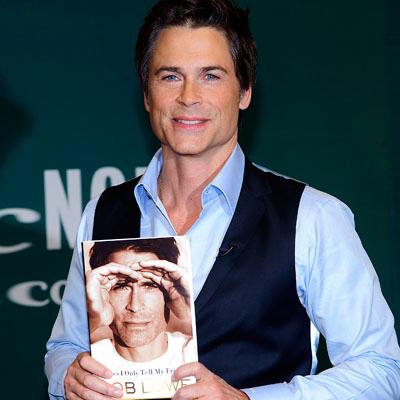 By Debbie Emery
RadarOnline.com Staff Reporter
On the outside, it appears that Rob Lowe has had a blessed life; Now, the Brat Pack hunk is finally opening up about the demons that landed him in rehab at the peak of his career.
In his new autobiography, Stories I Only Tell My Friends, the hunky 47-year-old spills the beans on his booze-drenched past, as he partied with high-profile childhood pals such as Charlie Sheen, Emilio Estevez and the late Chris Penn.
Article continues below advertisement
The man who was adored by millions reveals how he and Sheen raised hell in the Hamptons when the pair were filming there (Lowe was making Masquerade, while Sheen was filming Wall Street).
"Charlie and I compete to see who can play harder, then show up to work and kick ass. Sheen wins by a nose," the West Wing star revealed in his memoir.
Things spiraled even more out of control when Lowe returned to his bachelor pad in the Hollywood Hills.
"As usual, a night out with the boys leads to tequila and a party," he wrote. Lowe was finally shaken to his senses when he woke one morning with a raging hangover, a strange girl in his bed and a phone call saying his grandfather was dying.
"I'm so hammered I can barely stand," he admitted, so he pulled a card out of his wallet for a drug-and-alcohol counselor named Betty Wyman. "I make the call. It's May 10, 1990."
Article continues below advertisement
The Outsiders star, then 26, landed in a "middle-of-the-road" rehab center in Arizona, where his first encounter was with an employee who "was a former Hells Angel who looked like Charles Manson but spoke like Kermit the Frog" and shared a room with a "loud, snoring, middle-aged cross-dresser.
"I will begin one of the most exhilarating, liberating and exciting four weeks of my life. Scary yes...but unquantifiable relief," revealed Lowe.
Lowe admitted that he was most terrified of losing his magnetic charm.
"My greatest fear is that being sober means being boring. And that to me, would be worse than cirrhosis of the liver ... I am also worried about people finding out I am in rehab," Lowe added.
The 30-day stint ended with Lowe leaving "sober school" and released into the arms of his future wife.
"Sheryl and I slide into the cab for the ride to the airport and back to our lives," Lowe wrote. "I try to look ahead to see where our lives are leading but I can't."
Article continues below advertisement
Lowe went on to star in a string of big and small screen successes including the Austin Powers series, Wayne's World, and most recently, Californication and Parks & Recreation. Unlike so many fallen icons, he's remained sober and happily married for the past 21 years.
Stories I Only Tell My Friends is available in stores now.
RELATED STORIES:
VIDEO: Rob Lowe: 'I Flew On A Dry Run With The 9/11 Hijackers'