Lindsay Lohan Late To Scary Movie Premiere, Poses With Charlie Sheen On Red Carpet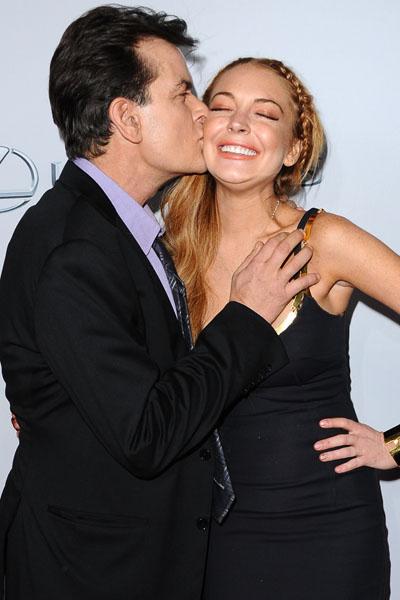 They told Lindsay Lohan to be on time for Thursday night 's Scary Movie 5 premiere. She wasn't.
The 26-year-old AGAIN failed to show up on time for the event at Hollywood's ArcLight Cinerama Dome, as she was a half-hour late, even after producers warned her not to be, and Charlie Sheen, 47, laughed about her lack of professionalism on The Tonight Show.
Despite the tardiness, Charlie -- who insiders told us is "absolutely disgusted by all her antics" -- smiled and playfully posed with the starlet just as the film itself was about to start.
Article continues below advertisement
As we previously reported, a show insider told us that "Lindsay was notoriously late for the Liz & Dick premiere," and that Sheen was irked after throwing her a bone with a cameo appearance on his show, Anger Management.
"From showing up late while shooting his sitcom, then walking off with wardrobe from the set, well, Lindsay would be very stupid to burn Charlie again."
Sheen told Jay Leno Wednesday that the red-headed tabloid queen took his show "hostage" after she was "hours" late to her call time, and confirmed the reports she'd gotten sticky fingers with a few bracelets.
"She borrowed some stuff, and then was told they would take it out of her paycheck, and she said fine, and that's all it was," he told Leno.
Others at the premiere included Andy Dick, Mike Tyson, Ashley Tisdale, Simon Rex, Katt Williams, Kate Walsh, Erica Ash, Heather Locklear, and Jerry O'Connell.
Scary Movie 5 hits theaters on Friday, April 19.