We Don't Have An Eating Disorder! 10 Stars Who Insist Their Super Skinny Bodies Are Healthy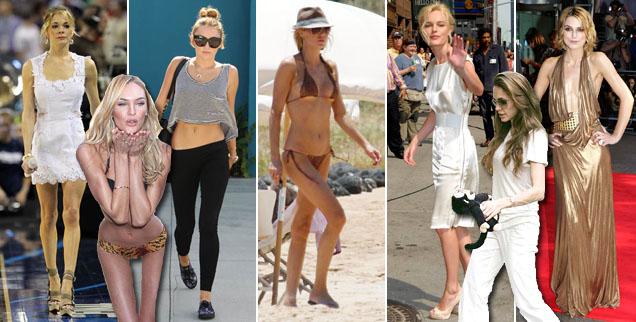 Some in Hollywood have admitted to battling eating disorders in the past, but others have long insisted their super skinny physiques are healthy.
RadarOnline.com is showcasing 10 celebrities who have defended themselves amid too-skinny speculation.
LeAnn Rimes has never been one to keep quiet when she's been wrongly accused. Just like her reaction to being called a "homewrecker," the country star had no qualms about blasting back at reports that she was suffering from an eating disorder.
Article continues below advertisement
She got even more enraged when her husband's ex-wife, Brandi Glanville - who has also raised eyebrows with her super skinny frame - revealed that her son had gotten sick after eating Rimes' laxatives.
Glanville's Real Housewives of Beverly Hills costar Taylor Armstrong has denied ever starving herself, but fessed up that stress once caused her to lose too much weight.
Keira Knightley has always been under fire for her super skinny body, recently opening up about her skinny situation. Denying that she's ever had eating issues, the sexy thespian also confessed that it hurt her feelings to be labelled anorexic.
Miley Cyrus' body has definitely changed over the years to become more skinnier, but the Hannah Montana star has slammed eating disorder accusations that have come her way.
She attributes her weight loss to working out!
So, what other stars have denied having eating disorders? Flick through our gallery here.