Amanda Knox Wants Meredith Kercher's Family To Read Her Book: 'Her Father Thinks I Am The Killer'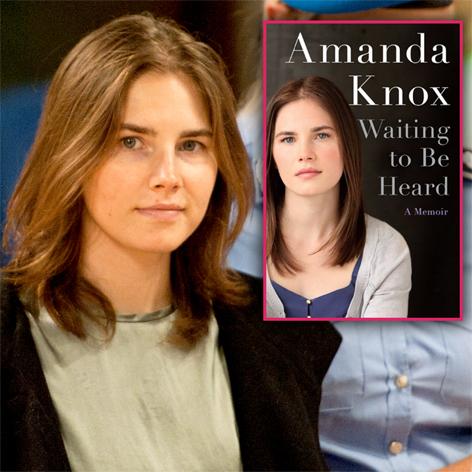 In her anxiously anticipated memoir Waiting To Be Heard that is set for later this month, Amanda Knox reveals the horror of her experiences in prison that even led to her contemplating suicide, and admits that even now her former roommate's parents believe she is a killer.
"I'm not a murderer," revealed the 25-year-old from Seattle, who is determined to reclaim her identity, reports the new issue of People magazine.
Article continues below advertisement
And Knox reveals in her hotly anticipated book that she wants the parents of murdered Meredith Kercher to read her book so they will know that Knox did not kill their daughter.
"In the courtroom I was called a liar and a murderer and a demon; in the media I was called a weird, jealous w***e," said Knox, whose conviction was overturned in 2011 by an Italian court, in the eye-opening expose. "Suddenly I wasn't me."
The former foreign exchange student is finally opening up about her imprisonment in Perugia, Italy, five-and-a-half years after Kercher's brutal November murder because she is "tired of the speculation," she explained.
"I wanted to lay myself out in a completely honest way. It was, 'You can judge me, but this is what you can judge me on.'"
Knox also wants to finally convince Meredith's parents in England that she didn't kill their daughter.
Article continues below advertisement
"I have never approached them for legal reasons and because I worry about imposing on them in their grief," she revealed. "But my understanding is that her father thinks I am the killer of his daughter, and that's painful. I really hope they read the book."
When the British student's body was found with her throat slit in the house that she and Amanda shared with two other women, Knox was in shock during her surprise interrogation. "It would never occur to me that I would be a suspect," she told People.
"I was dazed. I kept going, 'What's happening Raffaele?' I was terrified to be by myself, and he held it together for me," Amanda revealed, referring to ex-boyfriend and Italian engineering student Raffaele Sollecito, who was arrested with her.
Quickly dubbed in the press as Foxy Knoxy ("a soccer nickname from when I was 13," she later explained), the student's worst fears became reality when she was locked up in a 18-by-13 foot cell, enduring constant strip searches for drugs and kept awake all night with the chaotic noises of the prison that included: "the jingle of keys, people crying, guards yelling."
Article continues below advertisement
The only thing that kept her going was the hour-long visits from her family, who drained their savings flying from Seattle to Perugia, despite Amanda's initial fears that they would't believe she was innocent.
But when her long-time divorced parents left each week, Knox was left alone with her deep despair and the leering looks and sexual harassment from prison guards, which forced her to contemplate suicide. "I sometimes thought about the most effective and peaceful way to kill myself," she confessed. "It would be cutting my wrists, turning on the shower so it would fog up the spy window so the guards would't see me, and then drifting away and bleeding out."
Instead she kept going and her strength paid off in October 2011 when both Knox and Sollecito were acquitted by an Italian appeals court and she finally got to return to home America.
Having been locked up for over four years, the freedom was also a challenge as Amanda tried to settle into a world where she didn't know how to work an iPhone, a washer-dryer or even who Justin Bieber was. "I was still trapped in myself. I wasn't as cheery and sociable as before," she explained.
Sadly her nightmare is still not over as in March, Italy's higher court ordered a new trial within the next year, overturning the acquittal, after which she vowed to "face this continuing legal battle as we always have, confident in the truth and with our heads held high in the face of wrongful accusations and unreasonable adversity."
Waiting To Be Heard is published by Harper Collins and will hit stores on April 30 — the same day Knox's first television interview since her release from prison will be aired on ABC as part of a primetime special with Diane Sawyer.