Amanda Knox's New Tell-All Reveals Sexual Harassment In Prison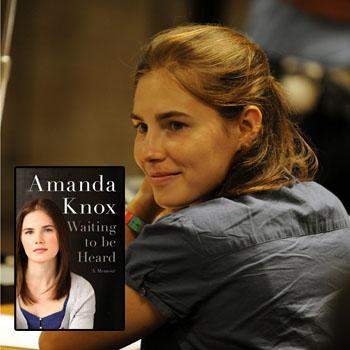 Nearly six years after she was accused of murdering her British roommate and sentenced to 26 years in an Italian prison, Amanda Knox is telling her side of the story in a new tell-all book.
Waiting To Be Heard, the new memoir of the Seattle woman accused of murdering her roommate while studying abroad in Italy, reveals sexual harassment at the hands of prison guards and prisoners.
In the autobiography, Knox, whose conviction was overturned in 2011 by an Italian court, recounts what she says was continual sexual harassment at the hands of a senior prison guard as well as fellow female inmates while serving four years in prison for the murder of fellow college exchange student.
Article continues below advertisement
"He was fixated on the topic of sex — who I'd done it with, how I liked it . . . if I would like to do it with him," Knox wrote on Oct. 3, 2011, to a friend about Raffaele Argiro, one of the senior guards at Capanne Prison, where she was held. "I was so surprised and scandalized by his provocations that . . . I would try to change the subject."
Knox, who alleges Argiro first asked her for sex soon after she was arrested in Perugia on Nov. 6, 2007, told her friend, "Argiro accompanied me to almost all my medical visits — two times a day — and at night he called me up to the third-floor in an empty for a 'chitchat.'"
Knox writes that after being suspended from duty because of accusations he sexually assaulted another female prisoner, Argiro is now retired.
Knox also writes about sexual advances from her fellow inmates, including one female inmate who repeatedly tried to threaten and pressure the young American into engaging in a lesbian affair.
In addition to dealing with persistent unwanted sexual advances, Knox claims she was told — wrongly — that she was HIV-positive while in prison.
Article continues below advertisement
Knox also addresses what she says were holes in the investigation into her roommate's murder, including her so-called confession.
A central feature of the book will be how the "confession" was reached, and will include a letter Knox wrote the day after the alleged confession.
"In regards to the 'confession' that I made last night, I want to make it clear that I'm very doubtful of the verity of my statements because they were made under the pressure of stress, shock and extreme exhaustion," she wrote in the letter, which will be published in the book
The memoir, which includes other bombshell revelations, "will shock to the core," says Knox's lawyer Bob Barnett.
Waiting to be Heard comes out April 30 -- the same day Knox's interview since her release from prison in 2011 will be aired on ABC as part of a primetime special with Diane Sawyer.
Originally scheduled two months earlier, the book's release date was changed out of deference to the Italian court, which scheduled a March 25 hearing for the prosecution's appeal of the Knox's acquittal in the 2007 murder.
Since her release, Knox has returned to Seattle, where she is studying and spending time with her family and new boyfriend James Terrano.