Matt Lauer Opens Up On TODAY Turmoil, Ann Curry & His Secret Talks With Katie Couric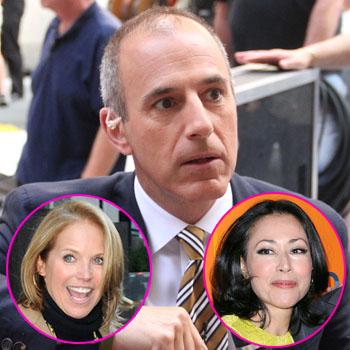 In a revealing new interview, TODAY lynchpin Matt Lauer opens up about his show's struggles over the past year, the backlash he suffered when Ann Curry was jettisoned, his offer to NBC execs to step down, and who first choice was to share the anchor's desk when Meredith Vieira stepped down in 2011.
"I don't think the show and the network handled the transition well," Lauer told the Daily Beast of Curry's disastrous departure last June, when she was replaced with Savannah Guthrie. "You don't have to be Einstein to know that. It clearly did not help us. We were seen as a family, and we didn't handle a family matter well.
Article continues below advertisement
"It was a hard time for everybody," Lauer, 55, said. "We were getting kicked around a lot. Some of it was self-inflicted and perhaps deserved."
While public perception was that Lauer was the back-stabbing bad guy who forced the network to make the controversial change, ex-NBC News president Steve Capus said that Lauer "was quietly and publicly a supporter of Ann's throughout the entire process," and that the negative press he received in the fallout was "unfair."
Lauer did lobby for Curry to stay and get better acclimated to the show, according to Capus, although the anchor admits Curry was not his first choice to replace Viera, but rather former TODAY star Katie Couric. The two engaged in top-secret discussions milling over a variety of ideas, including a possible return to TODAY, or the two of them teaming up on a syndicated daytime show. Complications with Couric's syndicated show prevented that from happening, and Couric eventually latched on with ABC.
Article continues below advertisement
TODAY, after a 16-year lead over Good Morning America, fell to number two behind ABC's AM vehicle last year, and the gap has only widened between the programs: During the week of February 25, GMA drew 5.8 million viewers to TODAY's 4.8, and beat them in the coveted 25–54 demo.
Lauer attributed losing the demo battle, in part, to the show's obsession toward dark-themed or tabloid stories last year, a change he said he fought NBC execs about tooth and nail.
"We want people to feel good about a portion of their morning and we got away from that," he said, noting that the current show is "much more positive" and "uplifting.
"Much of the darkness is gone, by design."
Lauer said that last autumn, he told NBC Universal chief executive Steve Burke, "If you think the show's better off without me, let me know, and I'll get out of the way," through the head honcho wouldn't hear of it, reassuring him he was the right man for the gig.
In spite of the hardships, Lauer called himself "the luckiest guy I know," and vowed he's "not going to whine or get depressed" as the battle of the morning shows continues.
"Who's going to feel sorry for me? Nobody," he said. "In some ways being No. 2 in the ratings is a real shot in the arm, a kick in the pants.
"It makes you hungrier -- I don't think it's a bad thing to have a fire lit under your a**."