Exclusive
Ann Can't Get No Satisfaction! Curry 'Not Happy' Lauer Facing TODAY Ax, Blames NBC For Making Matt A Diva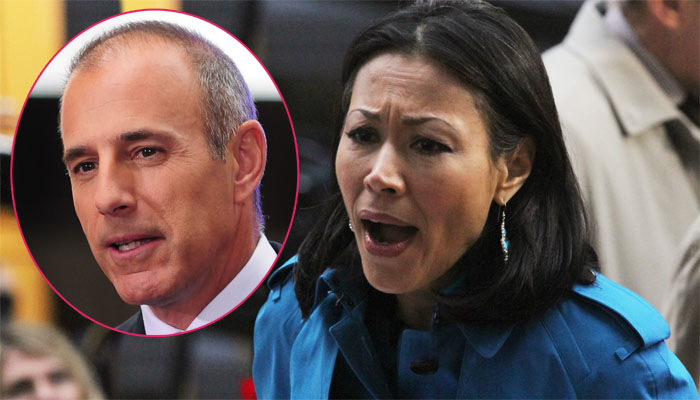 You'd think that Ann Curry would be laughing into her latte over news Matt Lauer is facing the ax from TODAY, but despite many people believing Lauer engineered Curry's own firing, the 56-year-old is taking no satisfaction from her former co-host's downfall, RadarOnline.com is exclusively reporting.
In fact, Curry places the blame firmly on NBC and TODAY executives for creating a monster by empowering Lauer and allowing him to become a diva, when they should have limited the power he had and kept him focused on what he does best — journalism!
Article continues below advertisement
"Ann should be crowing from the rooftops over Matt's contract not being renewed, but that's just not who she is," a source tells RadarOnline.com. "Remember, Ann herself was blamed last year for the show losing ratings to Good Morning America — they fired her and the situation didn't improve! There's a real culture of passing the buck and looking for a scapegoat at TODAY and it seems it's Matt's turn now to be thrown under the bus.
"She doesn't blame him for her firing though, Ann feels Matt was afforded way too much power and input when it came to programming decisions, when at the end of the day he's just a journalist. The line between journalist/executive producer of the show was clouded and Ann thinks the network bosses have no one to blame for the ratings slide and for Matt's sharp decline in popularity but themselves."
As RadarOnline.com previously reported, TODAY execs are not looking at renewing Lauer's $25 million a year contract when it expires in 2014.
MORE ON:
Good Morning America
Article continues below advertisement
The veteran presenter's popularity has crashed by more than half and according to the New York Times, during a meeting of the ratings-challenged morning news program, staffers (excluding Lauer who did not attend) were told, "what matters most is the anchor connection to the audience; what we need to work on is that connection."
Lauer's Q Score, a standard used to measure popularity, crashed from 19 to 9 from last September to January, 2013. That sent NBC scrambling to rehab their anchor's image, with Lauer speaking out recently and saying his bosses were to blame for the Ann Curry debacle.
But that tactic didn't work and during the week of February 25, GMA drew 5.8 million viewers to TODAY's 4.8, and beat them in the coveted 25–54 demo.