Exclusive
NBC Launches New TODAY Show Ad Campaign In Desperate Bid To Repair Matt Lauer's Image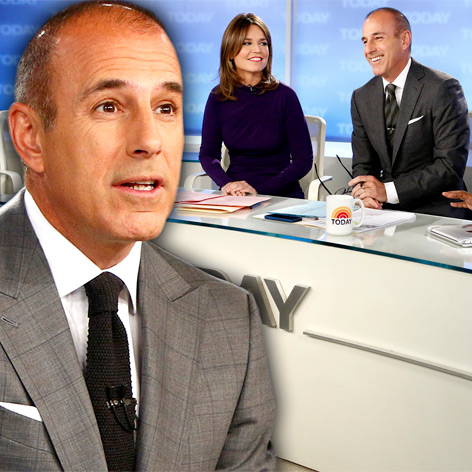 NBC has launched a new TODAY ad campaign in a bid to repair Matt Lauer's crumbling public image, but the commercial, which features the co-anchor and Al Roker reminiscing about the past and is meant to convey the cast as one big happy family, isn't working because viewers are still tuning out in droves, RadarOnline.com is exclusively reporting.
"The crew is just left scratching their heads over the ad," a source says. "This is part of NBC's great new plan to try and take back first place from Good Morning America, but it just isn't working. GMA is still in first place and Robin Roberts is returning from her medical leave of absence in the next few weeks. Why focus the ad on Matt Lauer? This is the TODAY Show, not the Matt Lauer Show....the entire cast should be used for future ads. Willie Geist and Hoda Kotb are wildly popular, you have to remind the public why they should watch the show....not remind them of the one reason people aren't, Matt Lauer!"
Article continues below advertisement
As previously reported, since Ann Curry's disastrous departure from TODAY this past summer, ratings on the once-dominant morning program have continually declined, allowing ABC's rival, GMA, to capture the number one spot.
After garnering a slew of negative press and being accused of orchestrating his former co-host's firing, Lauer seems to be trying to make amends and has been campaigning hard behind the scenes for Curry to be let out of her NBC contract immediately so the respected journalist can take a job at CNN.
"Matt thinks that NBC should let Ann out of her contract so that she can take the CNN gig" a source previously told Radar. "He can't imagine why the bosses are dragging their feet and are at a stalemate. It would allow Ann to get back on the air on a regular basis and everyone can move on from the debacle. Matt only wishes Ann the best and thinks it's for the best if she were to take a job at another network."
Article continues below advertisement
Meanwhile, the TODAY cast and crew are pretty confident as to what needs to be changed for the show to ever have a chance at regaining the top spot, and believe an ad campaign is not going to cut it!
"If NBC wants TODAY to be number one again the only thing that will get it done is to dump Matt Lauer," the insider says. "The staff recognizes this and if Matt is honest with himself, he should recognize that he is a liability to the show at this point. If Matt had any class he would quietly resign and move on. No one is counting on that happening anytime soon though."